By Jessica Suarez
Arizona Daily Wildcat
Wednesday Feb. 6, 2002

MUSIC

David Grubbs Act Five, Scene One (Blue Chopsticks)

Neil Michael Hagerty Plays That Good Old Rock and Roll (Drag City)

90 Day Men To Everybody (Southern)

Aphex Twin Classics (Pias)

Aphex Twin Selected Ambient Works 85-92 (Pias)

Desaparecidos Read Music/Speak Spanish (Saddle Creek)

TW Walsh Pollensongs (My Pal God)

Windsor for the Derby The Emotional Rescue (Aesthetics)
---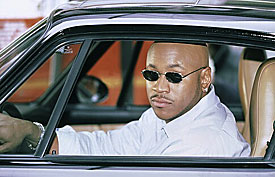 Photo courtesy of United Artists
Hip-hop artist LL Cool J stars in the remake of the 1970s film "Rollerball." The movie opens Friday.
MOVIES
"Collateral Damage" (Warner Bros.)
"Rollerball" (MGM/United Artists)
"Big Fat Liar" (Universal Pictures)
---
RENTALS
"Hearts in Atlantis" (Warner Bros.)
"O" (Trimark)
"The Legend 2" (Buena Vista)
"The Bad News Bears"(Paramount)
---
BOOKS
"The Cottage" Danielle Steel
"Masters of the Wild: A Guidebook to Barbarians, Druids and Rangers" Mike Selinker and David Eckelberry
CAUTION: To use this book, a Dungeon Master also needs the "Player's Handbook," the "Dungeon Master's Guide" and the "Monster Manual"
---
EVENTS
BANE, the Bled and Welcome to your Life play Muse, 516 N. Fifth Ave., tonight. The show is $8 and begins at 7 p.m. Visit www.bravamovement.com for more information.
February is Black History Month. Why not celebrate with some inspiring films? Pima Community College's West Campus, 2202 W. Anklam Road, presents "Malcolm X" tomorrow at 9 a.m. The movie is free and includes free popcorn. Call 206-3151 for more information.
Ronald K. Brown's choreography combines modern dance with kinetic spirituality. Come see his visionary dance troupe, EVIDENCE, at 8 p.m. Saturday at Centennial Hall. Tickets range from $16-$28 dollars. Call 621-3341 for more information
For more film action, check out the Lesbian Looks Film and Video Series. Now in its 10th season, this year's free screenings include the films, "Hand on the Pulse" and "Watching Lesbian Porn." The screening begins at 7:30 p.m. Saturday in the Modern Languages Auditorium. Call 621-1239 for more information.
We may be more than a month into 2002, but the Chinese New Year is just rolling around. Celebrate the Year of the Horse at Dao's Hunan's Restaurant, 4689 E. Speedway Blvd., with free Kung Fu and Lion Dance performances. The celebration begins at noon Sunday. Call 323-3737 for more information.
Come check out the real Sopranos at the 13th Annual Amelia Rieman Opera Competition. Voice majors will have a chance to compete for prizes totaling $2,200. The competition starts at 2 p.m. at Crowder Hall in the Music building.
Who is Emily Carr? Find out about the life and work of the Canadian painter at the Tucson Museum of Art's art talk appropriately titled, "Who is Emily Carr?" Museum docent Jeanne Carrol will lead the discussion, which begins at 1:30 p.m. Monday at the Tucson Museum of Art, 140 N. Main Ave. Call 624-2333 for more information.
Gregg I. Hanson conducts the Wind Ensemble, and Jay C. Rees conducts the Wind Symphony Concert Tuesday night at Crower Hall in the Music building. If you don't know what a euphonium is, now is your chance to find out. The Wind Ensemble's performance of David Maslanka's "Symphony No. 5" features euphonium soloist Kelly Thomas, assistant professor of music. The music begins at 7:30 p.m. Call 621-2998 for more information.
Desaparecidos, featuring Conor Oberst from Bright Eyes, plays Solar Culture, 31 E. Toole Ave., on Tuesday. Local band Red Switch opens the show at 9 p.m. Show admission is $7; call 884-0874 for more information.
Jason Brown will read from his work as part of the Poetry Center's Visiting Poets and Writers Reading Series next Wednesday. Brown, who has been published in "Best American Short Stories," "TriQuarterly" and "25 and Under/Fiction" will read in the Modern Language Auditorium at 8 p.m. Call 626-3765.