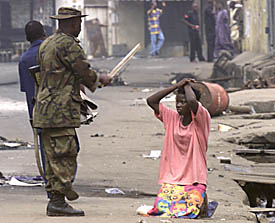 Associated Press

A soldier interrogates a woman in the Idi Araba neighborhood of Lagos, Nigeria, yesterday. Soldiers restored calm to the area, where violent fights between the ethnic communities of Hausas and Yorubas led to the death of more than 50 people.

By Associated Press
Wednesday Feb. 6, 2002

LAGOS, Nigeria - Heavily armed security forces clamped down yesterday on several Lagos neighborhoods rocked by three days of ethnic rioting that destroyed homes, killed close to 100 people and sent thousands fleeing.

Residents of the northern neighborhoods of Mushin and Idi Araba, where fighting between Yoruba and Hausa militants began Saturday, were ordered to walk with their hands above their heads as a precaution. Some were made to lie on the ground while soldiers searched them for weapons.

One woman, who gave her name only as Bimbola, said she saw police shoot dead a young Yoruba man who tried to run away during the security crackdown. Other witnesses confirmed her story.

Though the area was calm yesterday, some residents were still fleeing the affected neighborhoods, fearing security forces would soon leave and there would be a resurgence of fighting after nightfall. Others, however, nervously ventured back to collect whatever belongings were left in their looted, burned homes.

Bimbola found her roof caved in and her furniture burned when she returned home yesterday after fleeing the clashes. But she was thankful no one in her family was harmed. "If there's life, there's hope," she said.

Nigerian Red Cross president Emmanuel Ijewere estimated about 95 people were killed in the fighting, but stressed an accurate casualty count had not yet been determined.

Red Cross workers were helping to care for more than 150 people with gun, machete and other serious injuries at area hospitals, he added.

More than 3,000 people - mostly Hausa women, children and elderly men - were seeking refuge at the city's Abalti army barracks and Ikeja police college, according to Red Cross figures.

There are long-standing hostilities between the mainly Muslim Hausas and the Yorubas, most of whom are Christians and animists. The Hausas dominate Nigeria's north, while the Yorubas are the main tribe in the southwest.

The Yoruba governor of Lagos state appeared on national television alongside Hausa governors of several northern states to appeal to fighters in their respective languages to lay down their weapons.

"We are one nation, one people, one God," Governor Bola Tinubu said.

The fighting, which reportedly began with a neighborhood dispute after someone defecated in front of another person's home, died down Sunday after hundreds of police moved in and imposed a nighttime curfew.

But violence broke out again after midnight, when police appeared to have retreated, and spread to the nearby neighborhoods of Fadeyi and Onipanu. The handful of officers who remained on the scene were vastly outnumbered by fighters who toted machetes, swords, slingshots, bows and arrows.

Soldiers were deployed Monday, but at first were primarily involved in evacuating people from the affected areas. By yesterday, however, they had become a visible presence on the streets.

Africa's most populous nation is riven with ethnic, religious and political divides. Thousands have been killed in periodic clashes since President Olusegun Obasanjo won 1999 elections ending 15 years of brutal military rule.

The latest violence came on the heels of explosions at a Lagos army munitions depot that killed more than 1,000 people last week. Many of those who died were women and children who fell into a canal and drowned during a late-night stampede to escape the blasts.

Authorities were planning a mass burial of unclaimed bodies later in the week.