Housing crisis plagues UA residence halls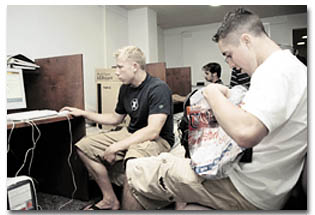 file photo
(From left) Business freshman David Mongan helps computer science freshman Ali Nassiri and business freshman Taylor McFarland get settled into their new home in the seventh floor study lounge in Arizona-Sonora Residence Hall on Aug. 19. The lounge is just one of the many places RHA has had to put students because of housing shortages.
By Amy Maltby
---
ARIZONA DAILY WILDCAT
Friday October 26, 2001
More than 200 students began year in alternative housing
The sight of students living in converted study lounges may be a thing of the past, but the housing crisis that caused students to temporarily live in lounges and hotels is not over.
The problem began when more than 6,100 freshmen arrived on the University of Arizona campus to begin fall classes.
Due to a shortage of housing space, more than 200 students, who expected to begin the year in a dorm room, were instead assigned to converted study rooms, computer labs and residence hall lounges. Still others were sent to local hotels.
Some parents of students living in the hotels were unhappy with the situation, citing loose security as one concern.
Lindsey Lakia, a pre-business freshman, said her parents were "not happy at all" about her staying in the hotel. Latkia said beyond security concerns, her mother said her the hotel, "was not what she contracted for."
Jim Van Arsdel, director of Residence Life and University Housing, said the placement of students in lounges and hotels was unavoidable. He said more students returned the guaranteed housing application by the May 1 deadline than the residence halls could accommodate.
"Our normal capacity is around 5,500," Van Arsdel said. "We just didn't have enough space for them, bottom line."
Residence Life attempted to make the temporary housing as comfortable as possible for the students. The department installed phone lines and data jacks, even providing cell phones for rooms in which phone service is not possible.
Some students contacted Residence Life and asked to remain in the converted lounges all year.
"It's huge," said Suzanne Clifton, a business freshman. "And the couch and chair were already in here. The couch is great."
Clifton shared a converted study lounge with four other women, all of whom said they would be happy to stay put.
The housing shortage was not unique to the UA. The University of California, San Diego in La Jolla, Calif. and the University of San Diego both lacked adequate accommodations for incoming students this fall.
Construction of new dorms for UA students is in the works. Four new residence halls, known as the Highland District Redevelopment Project, will be built over the next three years. The halls will be located between East Fourth Street and East Sixth Street on North Highland Avenue.
The new dorms will house more than 750 students. Students are expected to move in as soon as fall 2004.
Until the new halls are completed, Residence Life has had to come up with other ways to accommodate students.
A committee formed to address the housing situation at the UA came up with a proposal in early October, which it forwarded to the dean of students, the vice president for Campus Life and the vice president for Undergraduate Education to review.
The proposal included recommendations to eliminate guaranteed housing application deadlines and impose a housing cap on students returning to the Residence Life system.
"I think everybody can live with the elimination of the May 1 guarantee date," said Saundra Taylor, vice president for Campus Life.
The cap on returning students is more controversial. Van Arsdel said that last year, 26 percent of residents were returning students. If the cap is put into effect, only 18 percent of available space in the dorms will be allotted to those who return next year.
University President Peter Likins and Taylor will make the final decision about what action will be taken to solve the housing crisis. They said they expect to make a decision sometime this week.
Likins said he is looking forward to the completion of the Highland District Project, which he hopes will put an end to the current housing crisis.
In the meantime, Likins said, "We're going to manage our limited supply differently so that students aren't frustrated by unmet promises."
A forum to discuss the housing situation will be held today at 3 p.m. in the Economics building, Room 111. All parents and students are invited to attend.