The first lady of Arizona football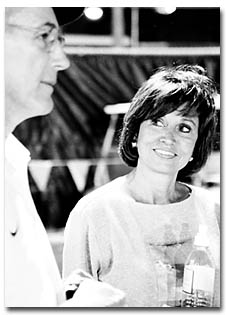 MIKE MEISINGER
Phyllis Mackovic watches as her husband, UA head football coach John Mackovic, addresses the media after a practice Tuesday. Phyllis and John were married in April after knowing each other for almost to 20 years.
By Connor Doyle
---
ARIZONA DAILY WILDCAT
Friday October 26, 2001
Coaches' wives are generally seen only at banquets and in press boxes, but Phyllis Mackovic, wife of head coach John Mackovic, decided she wanted to see up close what her husband does on an almost daily basis.
So, she's become a fixture at the team's nightly practices.
"I love coming to practice," she said. "I don't miss many. I'm getting to know the boys, not all the names, but I'm working on that."
Phyllis was born in Harrington, Kan., and moved to Texas to pursue her career. She lived in Dallas for more than 20 years, and it was there she met the man she would eventually marry.
For Phyllis, the life of a coach's wife is relatively new.
She married John Mackovic in April despite knowing each other for almost 20 years through business connections. Phyllis worked for an advertising agency that coordinated events for the Fellowship of Christian Athletes, a group that John, while an assistant coach with the Dallas Cowboys, was a part of.
"We went to the same church in Dallas, that's how I knew of him," Phyllis said. "Then we did a couple of business things together, and through the years I kept in touch with him, like I did with a lot of my clients. Then our paths crossed about a year ago, and we've been together ever since."
Phyllis said her attraction to John stems from two basic foundations - values and laughter.
"He has a really good sense of humor, and we both share the same family values," Phyllis said. "He has two children, I have two children, and those are our greatest accomplishments. We feel very strongly about our kids and our family. That also struck me about him. We share a lot of the same interests. He always made me laugh, and that was important to me. We are our own best audience. We enjoy our time together."
Though Phyllis hasn't been a coach's wife for very long, she and her husband have already established a routine that allows them to see each other as much as possible.
"We make a point of cutting out time for each other. On Mondays, I'll take lunch into his office, and then Monday evening I take dinner in too. Sometimes it's homemade food, and sometimes it's Jersey Joe's. And sometimes when I go to Jersey Joe's, I don't tell him.
"(The coaching staff) works every night until 10, except on Thursday when he gets home at 7:30, so we get reservations on Thursday night at a restaurant we haven't been to before. And then on Fridays, we're either on a plane or we stay here, so we have a little time together then."
John said he appreciates his wife's involvement in his professional life.
"I think I'm just fortunate to have someone who understands me," he said. "She's got a good attitude about what I do. I enjoy doing things with her, and I really enjoy her coming to practice so often. The best part about her coming to practice is she never comes home and talks about practice."
Phyllis said John, who is generally serious and stoic when it's time to take the field, is a different man away from the game.
"He takes this job very seriously. But when we're away from football he's a different person," Phyllis said. "We try to do things that are very laid back. But the day before game day, there's a game face that goes on. He's in deep thought, and I try to stay on the perimeter. He's a very hardworking man."
The couple say their experience in Tucson has been everything they could have asked for.
"We've had a great time in Tucson, and the people here have been really great to us, just really receptive," John said. "We love living here."
"I love Tucson. I love the desert, and John loves the desert," Phyllis said.