To Brad Hassey, baseball is like father, like son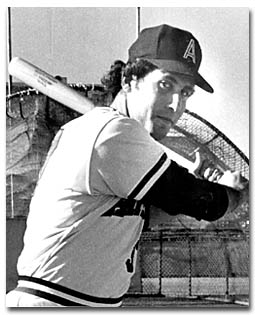 Photo courtesy of Arizona Sports Information Department
Former UA and major league catcher Ron Hassey is seen here in a photo while he was a Wildcat.
By David Stevenson
---
ARIZONA DAILY WILDCAT
Friday October 26, 2001
UA second baseman follows in father's footsteps
Senior shortstop Brad Hassey's accomplishments in his baseball career are only second-best in his family. Which, in his case, isn't a bad thing.
The three-letter varsity infielder at Salpointe High School and a member of the Arizona Daily Star's All-Southern Arizona team still has a long way to go to top his dad and former big leaguer, Ron Hassey.
The elder Hassey's career began at Arizona in 1974, where Ron led the team in hitting with a .421 average and a school-record 86 RBIs. The all-American played two more seasons at the UA and went on to play 14 years in the majors with a lifetime .266 average.
Brad was born in 1979 - a year after Ron's debut with the Cleveland Indians - and grew accustomed to how grueling a baseball schedule could be on a player's family.
"I was never at home during the summer," Brad said. "My family and I would watch him on TV during the school year and then stay with him in a rented house in the summer."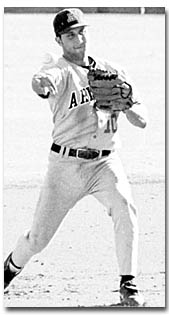 JON HELGASON
UA senior shortstop Brad Hassey practices during spring drills earlier this week at Sancet Field.
In 1988, Ron was a member of the Oakland Athletics when they made it to the World Series against the Los Angeles Dodgers. Ron was catching for A's closer Dennis Eckersley, and called for the curveball that Dodger pinch-hitter Kirk Gibson hit for his historic two-run homer to win the first game of the series.
The Dodgers went on to win the championship, and Brad still hears about the infamous selection from his friends.
"I sometimes hear, 'That was a nice call by your dad there,'" Brad Hassey said.
The following year, Brad was in Candlestick Park for the World Series. While the A's took batting practice before the game against the San Francisco Giants, an earthquake rocked the city.
"I remember the field starting to roll and I felt like I was flying through the air, " said Brad Hassey.
Ron retired in 1991 and became a bench coach for manager Don Baylor of the Colorado Rockies in 1994. Brad was a batboy for three years in Colorado, where he vacuumed, did laundry, sorted mail, served food and shagged balls in the outfield during practice.
"Brad respected the pro player," Ron said. "He wasn't in their way, and he watched how they went about their business."
As a batboy, Brad was an automatic target for practical jokes. He sometimes would surprisingly get a lighted book of matches carefully placed underneath his shoe. A couple of times he ran out onto the field with a wad of gum on his helmet.
Between the jokes, Brad honed his baseball skills in major league parks. Ron threw him batting practice and hit grounders to him before a game, a tradition that he said he would be glad to continue with any interested Wildcat.
"If people wanted to come to (Tucson Electric Park) and hit, I'll do it," Ron said.
Ron's laid-back approach has made him a favorite among UA players.
"He was always there to help and didn't want to interfere with other people's teams and stuff," senior Brian Pemble - who played with Brad Hassey from Little League and with the Wildcats.
Senior outfielder Clayton Bried agreed.
"It's cool to see how his dad cares about him and wants him to do well," he said.
But Brad hasn't stopped being the target of jokes. In the boring moments on the bench, the players play "Ron Hassey Trivia."
"First and foremost, the only rule in 'Ron Hassey Trivia' is 'Ron Hassey' is the answer to every question," Pemble said.
With Brad in earshot, the game would go like this:
Question: Who called a curveball that Kirk Gibson hit to win the game in the '88 World Series?
Answer: Ron Hassey.
Question: Who was Nolan Ryan's 4,999 and 5,001 strikeouts?
Answer: Ron Hassey.
It doesn't stop there. Ron's framed picture is another cause for jokes - the shot in the Arizona locker room has him in a catcher's crouch with thick bushy hair failing underneath his helmet.
"The guys love that picture, they'll imitate him and get into the crouch," Brad said.
Brad always admired his dad and wanted his career to mirror Ron's.
"I want to have that chance next year," he said. No joke.