Icecats' trio shares rink, brotherly love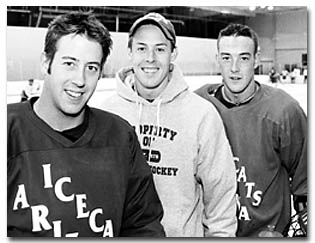 ERIC M. JUKELEVICS
The Meehans, (from left) Kevin, Brian and Mickey, are the first trio of brothers to be on the Icecats' roster at the same time in the team's history. Brian is an assistant coach, while Kevin is a senior captain and Mickey is a freshman.
By Dan Komyati
---
ARIZONA DAILY WILDCAT
Friday October 26, 2001
For over two decades, the Arizona Icecats - UA's club hockey program - have been among the top teams in the American Collegiate Hockey Association. Each season, a different team seems to stamp a unique distinction on the program's history. The 1985 Icecats won the ACHA National Championship, and last year's UA squad managed to win 30 games for the first time in team history.
Before playing a single game this season, the 2001-2002 Icecats distinguished themselves in another way. This year's roster includes three brothers - Brian, Kevin and Mickey Meehan - and marks the first time in Icecat history that three siblings have represented UA in the same season.
After playing for four years, Brian is now an assistant coach, while senior captain Kevin and freshman Mickey are teammates.
While there has been a steady pattern of Meehan hockey players coming to Tucson since Brian's arrival in 1995, their progression has been more coincidental than one might expect. Both Kevin and Mickey played junior hockey in the Midwest, and after weighing their options, each found the Icecats program to best fit their interests.
While growing up in suburban Chicago, ice hockey became a staple in the Meehan household.
After watching some of their neighbors play ice hockey, Brian first laced up the skates at the age of five. One by one, the brothers took to the ice - not long after learning how to walk - and each found success playing high school and travel hockey.
After overhearing a conversation about the Icecat program while in high school, Brian looked into UA's hockey team and liked what he found
"The program had been around for about 20 years, they had a great winning percentage and they get more fans in their building than anybody else," Brian said, referring to the 5,000-plus fans who pack the Tucson Convention Center for Icecat home games. "On top of that, it's a good school and a nice place to be, too."
A four-year starter and a winner of the Icecats' 110 Percent Award as the hardest worker on the team, Brian finished his career as one of the top-50 scorers in UA history with 18 goals and 41 assists.
Before joining UA head coach Leo Golembiewski's coaching staff during the fall of 1999, Brian became the first Icecat to play alongside a sibling when freshman Kevin arrived for the 1998-1999 season. Kevin said there were no prior plans to play college hockey with his older brother - rather, it just sort of happened.
"I was driving home after a season of junior hockey and I stopped at UA to check out my brother's school and hockey team," Kevin said. "All three of us had thoughts of playing in college to some degree. With Arizona, I had the option of going to a great school with a pretty good hockey program, so it was a good fit for me."
Now in his fourth season, Kevin has already amassed 25 goals and 42 assists in his UA career. As a captain this year, an important responsibility has been to provide team leadership for his many younger teammates, one of whom is his brother, Mickey.
Mickey has already begun to follow in his brothers' footsteps, recording two goals in as many games.
The freshman said he is determined to show he belongs on the team because of his talent, not the name on the back of his jersey.
"The only real pressure comes with people thinking that I'm only on the team because my brothers are on the team," Mickey said. "I'm just going to have to go out there and prove everybody wrong."
So far, each Meehan has had no problem leaving his mark on the Icecat program.
"They are all such hard-working kids. What you get out of those guys is dedication and none of them are afraid to give 110 percent," Golembiewski said.
"Brian had a tremendous work ethic, and Kevin was a great find for the program. Obviously we had a lot of interest in Mickey because of his brothers, and we were fortunate to get him to come here as well.
"They are all tremendous kids. They are all good students in the classroom, they are good in the locker room and just all-around quality individuals on and off the ice."
While their off-the-ice demeanor is easy to see, determining which brother is the best player depends on which Meehan you ask.
"I'd have to say me, but if you ask either of them, they'll probably say the same thing," Kevin said.
Mickey tried to be a bit more diplomatic.
"I am more the finesse kid, Kevin is more the hard worker," he said. "Brian was also more finesse, but Kevin and I bang and get goals. Brian was a good player, but I really haven't seen him play since he was 16 years old."
As a coach, the eldest Meehan has been able to instruct his younger brothers and watch their talents develop.
"It's fun. They both listen a lot more than people expect, and coaching them is easy because they both work hard," Brian said. "They know it's a serious program and it's all business when we show up at the rink. We really forget about the brother thing when we're on the ice."
Spoken like a true coach.