UA volleyball coach forges family ties with team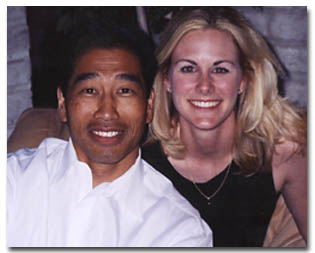 Photo courtesy of the Rubio family
UA head volleyball coach Dave Rubio with his wife, Amanda at their home in Tucson. Amanda is the sister of senior middle blocker Erin Sebbas, who plays under Rubio.
By Brian Penso
---
ARIZONA DAILY WILDCAT
Friday October 26, 2001
Entering the 2000 women's volleyball season, three important goals - winning a national title, winning the Pacific 10 Conference, and finding a bride to be - eluded UA women's volleyball coach David Rubio.
And scoring the latter two of the three isn't bad.
The Wildcats finished the season as the Pac-10 champions for the first time in school history, and Rubio finally tied the knot in December of 2000.
Rubio closed life as a single man after dating Amanda Sebbas, sister of current senior middle blocker Erin Sebbas, for 19 months.
Rubio said that he met Amanda while recruiting Sebbas to come play at UA.
"You meet the families of players that you recruit," Rubio said. "We developed a friendship first, and our relationship evolved from there."
Many outsiders looking in might see a conflict of interest, being that Sebbas is now a starter for the Wildcats, since she barely played in her first three seasons at UA.
Rubio said that everything Sebbas has achieved is due to her hard work and dedication to the success of the UA women's volleyball program.
"I am very fortunate that there is a definite line that Erin draws," Rubio said. "I don't think there is any difference in the time that she has played here before I married her sister and now. She is one of the hardest workers in practice and she has earned the right to be our starting middle blocker this season."
Senior outside hitter Jill Talbot agrees with Rubio.
"Favoritism has never been an issue with regard to Erin," Talbot said. "Erin is where she is today due to working hard and improving as a player. It has nothing to do that they are now legally brother and sister-in-law."
Sebbas said that the transition she has endured since Amanda married Rubio has been easy because she has had a player-coach relationship with Rubio for the past three years.
"Before (he) started dating my sister, he was my coach," Sebbas said. "We both look at our relationship a bit differently. But during the season, he is my coach first. The only difference now is that I know him on a more personal basis.
Amanda also said that the only time that that Sebbas and Rubio's player-coach relationship changes is when they are at family functions.
"There relationship during the season is definitely a player-coach relationship," Amanda said. "I really don't think that we fully change until she graduates. When we are with my parents, he is not the coach anymore. He is just the goofy big brother to Erin."
On the court, Rubio credits his marriage to Amanda in improving his coaching abilities because she has made his life more balanced and complete.
"Being married for me has made me a better coach," he said. "It has made me more balanced. I tend to be a workaholic anyway, and having someone to come home to every night is wonderful. Having a distraction other then volleyball during the season is good for me. It is good for my state of mind and health."
Amanda said she is on the outside looking in at the team and that allows Rubio to take his mind off of the pressures of being the coach of the seventh-ranked Wildcats.
"Honestly, I try to stay distant from what is going on with the team," Amanda said. "He is concerned about the team from the minute he gets up and when he is done with practice he comes home and vegetates. The team is usually the last thing that we talk about."
Talbot said being married has made Rubio more relaxed and easygoing on and off the floor, which has been beneficial to the team as well.
"In general he is more content and relaxed," Talbot said. "At the same time from a player's perspective it made him more passionate as coach. He cares about all aspects of our lives on and off the court."
Talbot said since Rubio has married Amanda, she has realized the true love that he has for every player on the Wildcats.
"He wants us to do so good so badly and sometimes he stays up at night worrying about us," Talbot said. "It shows how much he cares for each and every one of us. When we are sleeping comfortably, he is pacing around his bedroom.
"That, to me, shows how much he has invested in our team and how much he values the relationship he has with us as people as well as players."