For some, it's 'Broken Family Weekend'
By Cory Spiller
---
ARIZONA DAILY WILDCAT
Friday October 26, 2001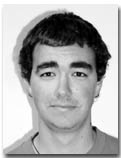 Cory Spiller
I would like to welcome all the parents who have come out for Family Weekend. I hope your visit is enjoyable, and I feel it is important that you recognize that your visit is significant and special to your son or daughter - and neither you, nor your child, should take it for granted.
I say this out of experience, and I say this in hope that those of you enjoying the company of both of your parents this weekend realize that you are lucky. Many UA students no longer have the option of seeing both of their parents on the same day - and it is partly due to the fact that they went to college.
There's an interesting phenomena that I, and I'm sure many of you, have noticed concerning the relationship between parents and the event of their children going to college. In many cases, parents decide that now is the time to go ahead and get that divorce.
As far as I - still a naive and arrogant little brat - can tell, this is how it often goes in many of the homes college students leave. During their child's senior year of high school, parents begin to realize that this is their last chance to boss their kids around. And they don't do it out of spite, but out of a deep-seeded desire to instill the last morals they believe their child needs before they can leave the nest. But then the time comes to drop the kid off at college.
Mothers and fathers help pack up the car, and sadly notice the excitement their child has to leave home. They help them unpack their belongings into closet-sized dorm rooms, and skeptically eye their new roommates. They hug and say, "I'll see you at Family Weekend," and mother and father drive home.
---
"The Only Person Left Is Their Spouse, Their Partner, Their Teammate In The Terrible Game Of Parenting. But Now They've Lost That Title; The Game Is Over. Now That Person Is Simply A Companion, An Acquaintance, Or - At Worst - A Stranger. College Isn't Just A New Start For The Kid; It's Also A New Start For The Parents."
---
They return to their now-quiet homes. They look around and wonder what they used to do with their free time. The house may be clean now, they aren't awakened late at night by loud music, and no one drinks straight out of the milk jug. And then they begin to wonder what all the fuss was about.
The only person left is their spouse, their partner, their teammate in the terrible game of parenting. But now they've lost that title, the game is over. Now that person is simply a companion, an acquaintance, or - at worst - a stranger.
College isn't just a new start for the kid; it's also a new start for the parents. They either must re-create the romance they suspended, rediscover their lover, or decide to separate. Many parents have it all planned out. They've noticed long before their child goes off to college that they've had enough of their spouse and they wait until the last kid leaves before they call it quits. And you have to hand it to them - that's rather noble.
My parents won't be coming down for Family Weekend, and I don't expect them to. I guess we as a family have grown out of that. Maybe they've grown out of their role as a parent, and I've grown out of my role as a child. However, I tend to give more weight to the first hypothesis.
Instead of coming down this weekend my parents came down last weekend, separately. My mother visited on Friday with her new boyfriend. The two of them, my girlfriend and I went to dinner. I would describe it as pleasant if it wasn't entirely awkward, but that's not something to accept but something to fight. We talked, but all I could think of was wanting to be at home, with her, sitting at the kitchen table, talking about our day. Now we talk about our months and repeat, over and over again, that everything is fine, and, "Yes, I'm very happy."
My dad came down on Saturday. We sat on my porch and drank beer. We talked about the future. We like to do that. I mentioned that I don't know what I'm going to do with myself.
"I can't see settling down, dad. Not soon, maybe not ever."
"Oh you will, Cory. You'll fall in love and you'll settle down, and you'll have a family." I looked at him confused, and uncertain of how to respond. His marriage was over, after 30 years. How could he recommend settling down to me?
"Cory, I'll say this and I'll stand by it. Love is still the best thing going."