What's that smell? Ignore the citified air and seek Tucson's soul
By Phil Leckman
---
ARIZONA DAILY WILDCAT
Friday October 26, 2001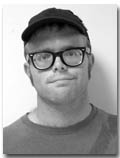 Phil Leckman
Hi moms and dads. How's it going? If you happen to be reading this right now, you're probably here for Family Weekend. And things are probably a little weird.
Family Weekend is about changes - good and bad, and, most of all, not-quite-sure-yet. It's a time for parents and kids to cautiously feel their way through familiar relationships now rendered just a little odd. As parents, you're caught between trying to parent or accept little Jimmy or Jenny as finally a little closer to adulthood. Your kids are in a similar bind, torn between feeling homesick and trying to demonstrate their independence. And everyone is trying to ignore the dirty clothes shoved under the bed in a futile effort to "clean up" or the funny smell coming from the week-old food in the dorm room trashcan. All in all, it's probably a bit of a shock.
Of course, if you're from anywhere besides Phoenix, Tucson is probably contributing to your sense of dismay. No, we don't have any water or trees. Yes, girls do dress like that all the time. And with temperatures topping 90 degrees in the third week of October, who can blame them? Parents may be wondering why their precious offspring have chosen to attend college in this godforsaken desert. But hey, give them a chance.
I feel your pain. I've seen the stares of disbelief most people get when they first arrive in the Old Pueblo, and I'll be the first to admit that Tucson's charms are not always obvious. And the city planners haven't always done much to play them up. Why else would they locate a strip mine, a rail yard, several power plants and an open sewage pond next to the city's only major interstate highway? (Yes, that was what you smelled on the drive from Phoenix.)
But don't let a few incredibly ugly zoning mistakes fool you; like the teen beauty queen with the nerd glasses in one of those senior prom movies, Tucson's best features lurk just under the surface. They may take a little looking, but they're out there.
Let me make a suggestion, some advice for dealing with both Family Weekend frazzles and desert disconnect. Give Tucson an exploration. Get off campus, away from dorms and classes and dirty laundry, and see what southeastern Arizona has to offer. Visit one of the restaurants presented on these pages, or seek out one of the many attractions Jessica Suarez describes. Or go further afield: Tombstone, Bisbee and the green, cool Catalina mountains are all just an hour or so away. It's a surefire remedy for the weirdness Family Weekend can create - a nice dinner out, a trip to the mountains, a relaxing drive and you'll be back to feeling like a family again, with all the good and bad things that means.