Wildcats get rolled by Beavers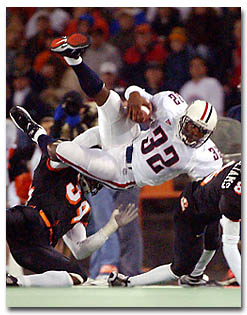 Associated Press
Arizona's Clarence Farmer (center) lands on Oregon State's James Allen (left) and Aric Williams during the second half Saturday, in Corvallis, Ore. Oregon State defeated Arizona 38-3.
The Associated Press
---
ARIZONA DAILY WILDCAT
Saturday October 13, 2001
CORVALLIS, Ore. - For the first time this season, Oregon State's defense resembled the hard-hitting, chest-thumping group that propelled the Beavers to the Fiesta Bowl.
Ken Simonton ran for 104 yards to end his slump, and the defense held Arizona to just 159 total yards in Saturday night's 38-3 rout.
"We played and had fun," Beavers coach Dennis Erickson said. "The defense pretty much dominated. That's how we have to play."
Simonton, held to 45 yards rushing in losses to UCLA and Washington State, had a 1-yard touchdown run to become the Pac-10's career scoring leader among non-kickers and keep the Beavers (2-3, 1-2 Pac-10) in contention for an unprecedented third straight bowl appearance.
"We really feel like our backs are against the wall right now," middle linebacker Richard Seigler said. "We don't want to be home for Christmas."
For the third straight game, Arizona (3-3, 0-3) gave first-year coach John Mackovic a feeble performance. The offense managed just 46 yards rushing, and had just three first downs in the opening half.
The defense was nearly as bad, giving up 415 yards, although injuries to the front seven are a big reason. The Wildcats, who entered the game ranked 103rd in the nation in points allowed at 34.2, have given up 149 points over their last three games.
The defeat was Arizona's most lopsided since a 56-14 loss to Arizona State to end the 1996 season, and it could have been worse. If not for a 28-yard field goal by Sean Keel late in the third quarter, set up by Oregon State backup quarterback Derek Anderson's interception, Arizona would have been shut out for the first time since 1991.
"This game really hurts," Mackovic said. "We made a series of mistakes. (Quarterback) Jason Johnson was under pressure the entire night. They neutralized anything that we hoped to do at the line of scrimmage."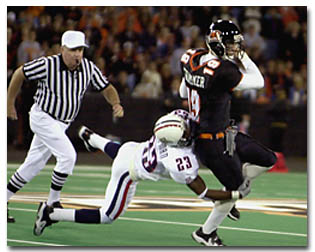 Associated Press
Arizona's Jermaine Chatman (23) ties up Oregon State's Seth Trimmer (19) in the first quarter in Corvallis, Ore., Saturday.
Oregon State improved to 5-19-1 in the series by beating Arizona for the third straight time; as with last year's 33-9 win in Tucson, the Wildcats failed to score a touchdown, the only two times that has happened to them since 1994.
Oregon State's Jonathan Smith had been last in the Pac-10 in passing efficiency, but part of his problem was an inexperienced offensive line. The Beavers' solution was putting in a shotgun formation, and Smith completed 10 of 21 passes for 125 yards and a touchdown. He also ran for a score.
"I don't think I got hit all night," Smith said.
The defense first started showing signs of life in the second half of a 34-27 loss at Washington State last week, when it returned a blocked punt and a fumble for touchdowns to help the Beavers come back from a 31-0 deficit.
The unit's renewed speed and bravado were especially on display late in the first half Saturday night.
With his team trailing 21-0, Johnson was sacked by linemen Dwan Edwards and Noah Happe, who celebrated by crouching low and slapping hands. Johnson was hit hard on the next play by James Allen, and third-and-8, halfback Clarence Farmer took a pitchout and was upended by Mitch Meeuwsen for a loss.
Blunders by the Wildcats led to all four of Oregon State's first-half touchdowns.
Farmer, who gained just 55 yards on 19 carries after running for a career-high 158 against Oregon last week, fumbled at his own 36, and Allen recovered. It took the Beavers eight plays to get to the Wildcats 2, and on third-and-goal, Smith rolled left and hit James Newson for the touchdown.
Arizona had to punt on its next possession, and freshman Cole Clasen broke free and got his left hand on the ball. It bobbled along 15 yards before Kenny Farley recovered it in the end zone for the score.
The next mistake belonged to Johnson, who overthrew Maiosi Leonard and had his pass intercepted by Meeuwsen. Simonton bolted for a 31-yard gain before being pushed out at the 2, and Smith dove underneath for the score two plays later.
Behind Anderson, who's being groomed as Smith's successor, the Beavers drove 64 yards for their final score of the half – with help from three pass-interference penalties by Arizona. Anderson threw a perfect fade pass to Clasen for a 26-yard touchdown that made it 28-0.
"He had to pay his own way the first quarter," Erickson said of Clasen, a walk-on. "But I'm not dumb: We'll put him on scholarship for the next quarter."
Simonton moved into fifth place on the Pac-10 career scoring list with 336 points. He is 54 behind the top scorer, UCLA kicker John Lee.