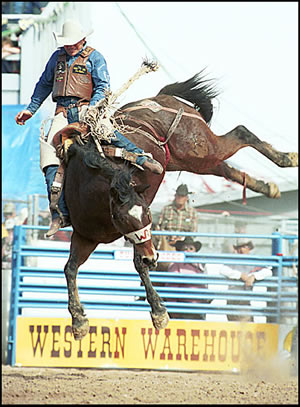 Red Lemmel rides Apache in the Saddle Bronc competition Saturday.
Photos by Eric M. Jukelevics
Arizona Daily Wildcat
Tuesday Feb. 26, 2002
The rodeo has come a long way since its inception in 1925, when 750-pound blocks of ice and 100-pound bags of potatoes were among the heftiest awards for competitors.
Tucson's five-day Fiesta de los Vaqueros, a non-profit event run by volunteers, is considered one of the top professional rodeo events in North America. Held at the Tucson Rodeo Grounds, the 77th annual Tucson Rodeo features professional male and female competitors young and old, hailing from across the United States and Canada.
Today's competitors face higher stakes - a total pot exceeding $275,000 - and bigger audiences to please. With more than 200,000 spectators crowding the stands throughout the week, the Tucson Rodeo continues to leave its mark on the dusty Southwest, and will for years to come.