A motorized mixed spectacle occurred at the Tucson Convention Center from March 8th through the10th. It was the WWF Monster truck show and it featured freestyle motorcycles, stunt cars and monster trucks. The arena was packed and fans of all ages showed up for the show. The stars of the show were WWF-sponsored trucks Stonecold, The Undertaker and McGruff the crime dog. The trucks raced and smashed cars in the middle of the stage, and the winners were chosen by the amount of applause they received. The show also featured monster truck freestyle and truck rides for kids for five dollars. The state of the art trucks are capable of reaching speeds in excess of 60 mph and feature a blown and alcohol injected engine that can produce over 15,000 horsepower. Each truck is 12 feet high, 12 feet wide and is supported by four gigantic tires that are 66 inches high, 43 inches wide and weigh 900 pounds a piece. In the end, the crowd left the arena with their ears ringing and their clothes smelling of exhaust, but everyone left happy. Even though the wrestlers were not on hand, there was still a feeling of WWF attitude.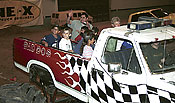 A group of fans takes a ride on Bad Dog during an intermission.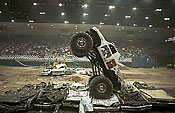 The Stone Cold truck nearly flips over and destroys what is left of the cars before winning the freestyle event.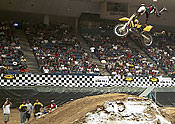 Dirt bike rider does a super man and has to hurry to get back on his bike before landing.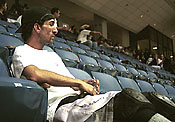 Dirt bike rider Scott Sandkarbert surveys the crowd before the show.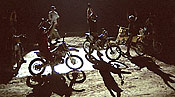 Dirt bike riders are introduced and pump up the crowd.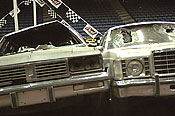 A coupe of cars wait to be crushed the WWF Monster trucks before the show.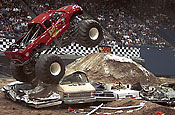 Bear Foot destroys a van that was just brought out during the Monster Truck freestyle event.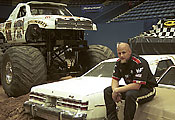 Monster truck driver Clinton Nichols, driver of the alcohol blown Undertaker, waits for the show to start, and checks out his competition.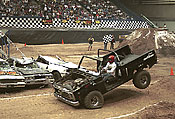 Stunt car takes a nose dive after jumping.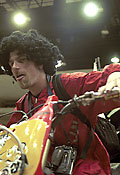 Rider Tim Conley revs his engine and gets his bike ready for the show.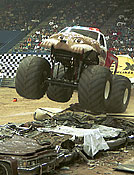 The McRUFF the Dog Truck makes a run bouncing off a row of cars during the racing segment of the show.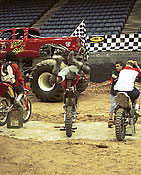 Kard board dirt bike riders prepare their bikes and mess around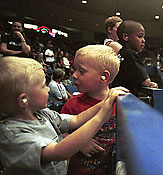 A couple of kids check their earplugs and get ready to ride in the back of one of trucks.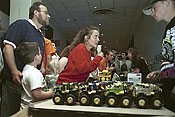 Fans rush to buy souvenirs like T-shirts, toy trucks and posters of their favorite Monster trucks during intermission.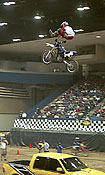 A dirt bike rider from the Kard Board Clan gets the crowd going during the freestyle dirt bike event.