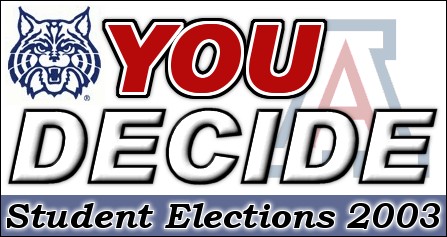 Go to http://asua.arizona.edu to vote. [Results]
Visit the Student Election Guide.


President's post sealed by 64 votes
Voter turnout highest in more than a decade
Nearly 4,000 students voted online in the ASUA general election, the most since 1990, producing one of the closest elections in UA history with less than 1 percent of the vote separating the winners from the losers in some offices.
President-elect J.P Benedict maintained his primary election lead over opponent Jered Mansell, winning 50.9 percent of the vote, while his campaign partner Melanie Rainer also came out on top in the executive vice president race, defeating Scott Cheney by only .8 percent. [Read article]



New student senators will face challenges in teamwork
Ten elected senators will test out the ASUA waters this fall, but after a close election, they will first have to learn to work with each other.
Last night, Freshman Class Council member Jacob Reuben brought in the most votes in the senatorial race with 33.3 percent of the total vote. Kara Harris trailed him by only 14 votes.
The other eight senatorial positions went to Blake Buchanan, Morgan Kisler, Sara Birnbaum, Nicholas Bajema, Ben Weiss, Kartikeya Kejriwal, Matthew Harris and Soral Karim. [Read article]



Last chance to vote in student elections [03.12.03]
Tomorrow morning, 13 UA students will wake up and partake in their normal morning activities. The only difference is they will no longer be an ASUA candidate, but an elected student body officer.

Today is the last day of the 2003 Associated Students of the University of Arizona general election. Students can go online to vote for student body president, administrative vice president, executive vice president and senators until 8 p.m. Winners will be announced an hour later at Gentle Ben's on East University Boulevard. [Read article] [Read article]



Polls open today and tomorrow [03.11.03]
ASUA's general election began this morning, and until tomorrow evening, students will have a chance to decide who will lead their student government next year.

Voting students will choose the 2003-2004 student body president, administrative vice president, executive vice president and senators. [Read article]



Candidate Profiles: President & Executive Vice President [03.10.03]
Benedict plans to boost school spirit

J.P. Benedict has known the words to "Bear Down Arizona" since he was five years old. As a third generation Wildcat, Benedict believes that he harbors a love for UA that only a student body president could have. [Read article]



Student Candidate Endorsements [03.10.03]
Competitive. That's the name of this year's student elections. Oh, they're the normal senate candidates who promise things that couldn't and shouldn't ever happen. But there's a solid group of senate hopefuls with potential. The officer races (president, executive and administrative vice presidents) are even more exciting ÷ serious, competent competitors with strong platforms. Some choices are harder than others, but even those who did not win endorsements put up a heck of a fight. Voters will have the final say tomorrow and Wednesday. [Read article]



Meet the Candidates: Administrative Vice President [03.07.03]
Winning candidate will act as a chief officer in student government, overseeing student programs and services such as the Women's Resource Center and SafeRide [Read article]



Presidential candidates in close race [03.06.03]
With less than a week before the Associated Students of the University of Arizona's general elections, presidential candidates J.P. Benedict and Jered Mansell met for the final time last night to publicly discuss their platforms.

As both candidates answered questions from a panel of student leaders, it became clear that both Freshman Class Council Director Benedict and Administrative Vice-President Mansell share the same views on a number of campus issues. [Read article]



Former VP will aid in elections [03.03.03]
Last minute appointment eases burden of elections commissioner

Student senators appointed Chief of Staff Sam Chang to the position of assistant elections commissioner Friday, only three days before the primary elections. [Read article]



Primary Election Guide [03.03.03]
Meet the candidates running for contested student government offices [Read article]





showads('bigbutton'); ?>

showads('mediumbutton'); ?>

showads('bigbutton'); ?>