President's post sealed by 64 votes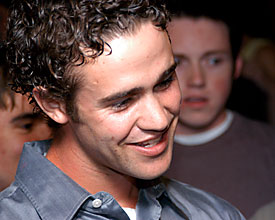 WILL SEBERGER/Arizona Daily Wildcat

ASUA President-elect J.P. Benedict reacts last night at Gentle Ben's after winning the election by 1.8 percent of the vote. Benedict defeated Jered Mansell in the race for president.

By Rebekah Kleinman & Aaron Mackey
Arizona Daily Wildcat
Thursday March 13, 2003


Voter turnout highest in more than a decade

Nearly 4,000 students voted online in the ASUA general election, the most since 1990, producing one of the closest elections in UA history with less than 1 percent of the vote separating the winners from the losers in some offices.

President-elect J.P Benedict maintained his primary election lead over opponent Jered Mansell, winning 50.9 percent of the vote, while his campaign partner Melanie Rainer also came out on top in the executive vice president race, defeating Scott Cheney by only .8 percent.

Victoria Ruan, who publicly supported Mansell and Cheney, won by the largest margin in any race, coming away with 55.5 percent of the vote to Daniel Suh's 44.5 percent in the race for administrative vice president.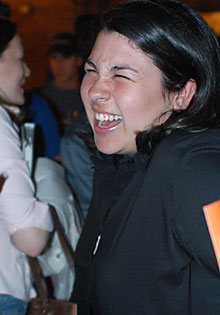 SUSIE LEMONT/Arizona Daily Wildcat
Melanie Rainer reacts with joy following the announcement that she defeated Scott Cheney in the race for student government executive vice president.
Students voting for the office of senator were asked to select 10 of the 19 candidates on the online ballot, creating a tight race, with only 34 votes separating the 10th and 11th place senators.
The results were a stark contrast from last year, when the closest margin in a race was 10 percent.
Elections Commissioner Jason Korner stood on a plastic chair on the patio at Gentle Ben's as he announced the election results to a crowd of more than 100 people.
About 1,000 more people voted in this election than in the last, Korner said, although he still considered the turnout to be low.
Members of KAMP student radio cheered and embraced as Korner announced first that the continuation of the $1 KAMP radio fee passed with 76.8 percent of the vote, and received more votes than in any individual ASUA race.

I had no idea what it was going to be like. My heart was beating really fast ·
- Scott Cheney
vice presidential candidate

"We got about as many yes votes as last time. We're glad the university still supports us," said Brian Van Buren, KAMP general manager.
Current Student Body President Doug Hartz took over Korner's position on the chair to announce the winner of the ASUA presidential race, but not without "tormenting" the candidates.
"It's sort of a tradition for the current student body president to screw with the two candidates and talk for a half an hour," he said.
However, Hartz got straight to the point, first announcing the voter percentages, and then the winners.
"It seemed so long when he announced the percentages. It could have gone on either side," Benedict said.
Benedict received only 60 more votes than Mansell.
Mansell, who has served on ASUA for two terms, first as a senator and then as this year's administrative vice president, said last week that if he didn't win he would consider applying as the director of the Freshman Class Council, which is Benedict's current position.
"I knew it was going to be close. I'm disappointed with myself; I don't feel that I pushed as hard as I could have in the last few hours," Mansell said.
Although the president-elect has set an agenda for his term, he said that for now his first priority is to clean up the mess produced by his campaign flyers and then get some sleep.
But after that, it's back to business.
"We are just getting started, and I'm ready to get started," he said.
Benedict thanked the student body for participating in the voting process and encouraged as many people as possible to apply for appointed positions within ASUA.
"Without the student body, this wouldn't be possible," he said.
The race for executive vice president proved to be even closer, as Melanie Rainer narrowly defeated Senator Scott Cheney by 27 votes.
"Scott's a good candidate. I didn't know it was going to be that close," Rainer said.
Rainer's support increased dramatically since the primary, in which Cheney carried 53.67 percent of the vote.
After last week's primary elections, Cheney said he was confident about the generals, but last night he realized a different sentiment before the results were announced.
"I had no idea what it was going to be like. My heart was beating really fast and on the way over (to Gentle Ben's) I was just really nervous," he said.
Rainer's voice trembled with excitement as she commended Cheney on a well-run campaign, then turned to embrace running mate Benedict.
"We've been campaigning all day, calling people, e-mailing. I think it really helped both of us out. I know we make a good team," she said.
Rainer will complete her term as a student lobbyist before taking on her new duties.
Cheney intends to apply for an appointed ASUA position, and is especially drawn to the Spring Fling committee.
The largest margin of victory for executive officers came in the administrative vice-presidential race, when Senator Victoria Ruan defeated Senator Daniel Suh, carrying 55.5 percent of the vote.
"I expected it to be a lot closer, actually," Ruan said.
An exhausted Ruan spoke of the past two days as a blur, saying that she was relieved that the process was over.
"I've devoted almost four weeks of my life to this," Ruan said.
Suh said that though he wished he had won, he is certain Ruan will do an excellent job.
"I'm confident that she'll do a good job and I'm happy with the results," Suh said. "I think the polls show that the races were really close."
Suh will concentrate the next few weeks on finishing up several projects he has taken on as a senator. However, he believes his most important job will be aiding in the transition of incoming senators.
"I'd really like to help prepare the
senators to do a good job," Suh said.
As for next semester, Suh would like to stay involved in ASUA, working in either an appointed position or as a member of the executive cabinet.
"You don't have to be a senator to make changes. As long as you have the initiative and the drive you can implement change," Suh said.
Ruan said that she is looking forward to spring break, but plans to start her work immediately when she returns.
"The very first thing we have to do is get new directors for all the programs and services," Ruan said.

Total Ballots: 3798

President		Polling		Percent
J.P. Benedict		1734		50.9%
Jered Mansell		1670		49.1%

Executive V.P.
Melanie Rainer		1665		50.4%
Scott Cheney		1638		49.6%

Administrative V.P.
Victoria Ruan		1722		55.5%
Daniel Suh		1382		44.5%

Senate
Jacob Reuben		1264		33.3%
Kara Harris		1250		32.9%
Blake Buchanan		1187		31.3%
Morgan Kisler		1164		30.6%
Sara Birnbaum		1139		30.0%
Nicholas Bajema		1061		27.9%
Benjamin Weiss		963		25.4%
KK (Kartikeya Kejriwal)	948		25.0%
Mathew Harris		899		23.7%
Soral Karim		871		22.9%

Nate Pluke		837		22.0%
Kristian Ramos		836		22.0%
Patrick Brennan		823		21.7%
James Hoult		779		20.5%
Drew McInerey		699		18.4%
Julie Augenstein	684		18.0%
Robert Woodson		670		17.6%
Preet Ghuman		615		16.2%
Vern Johnson		547		14.4%
William R. Huan		396		10.4%

Kamp Fee Referendum:
Yes			2735		76.8%
No			824		23.2%


Something to say? Discuss this on WildChat