Campus recalls 9/11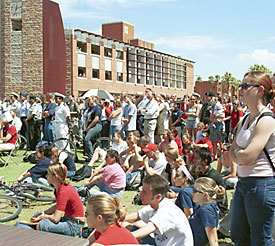 KRISTIN ELVES/Arizona Daily Wildcat

Students gather on the UA Mall yesterday for a noon ceremony in remembrance of Sept. 11. President Peter Likins and student body president Doug Hartz led the event, which featured poetry, music and an alumni tribute.

By Kristina Dunham, Rachel Williamson & Kaila Wyman
Arizona Daily Wildcat
September 12, 2002


The UA community remembered the lives lost in last year's Sept. 11 attacks by joining for a mid-day address by President Peter Likins, building houses and praying together.

In the same place, at the same time as a year ago, Likins spoke to campus yesterday.

"For some, anger still boils in your hearts and retribution in your thoughts," he told more than 1,000 members of the UA community on the Mall at noon.

Most of the crowd stood motionless and silent, fanning out past the Nugent building.

Likins reflected on what the past year had meant emotionally and in solidifying the UA community. He said that while many reacted with either anger and thoughts of retribution or thoughts of unity, he has focused on peace and love.

The ceremony opened with five rings of the USS Arizona bell in the Student Union Memorial Center clock tower. Construction workers in the building took a break to pay homage to the five alumni killed in the Sept. 11 attacks, some looking on from the scaffolding where they stood.

The ceremony, framed by the national anthem and the up-beat "Fanfare for the Common Man," included words from student body student Doug Hartz, student poetry readings and appearances from campus religious leaders.

Earlier in the day UA students and staff pitched in on the west side of Tucson to build 11 new homes, in a day the Tucson chapter of Habitat for Humanity called "Building Freedom Day" in honor of police, fire fighters and armed services.

Tucson Mayor Bob Walkup hammered in the first nail at 5:30 a.m. and construction was underway on King Avenue, just south of A-Mountain.

More than 1,000 people were expected to participate in the event over the course of the day, dozens of them UA students.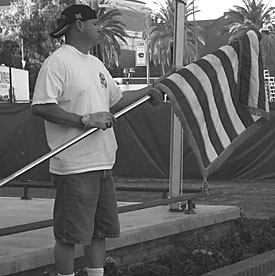 KRISTIN ELVES/Arizona Daily Wildcat
Flags from 130 countries were displayed for the memorial ceremony.
"I could not think of a better way to spend Sept. 11th," said UA professor and head of Habicats Bob Bechtel. "It's just been wonderful."
Four members of Habicats, UA's chapter of Habitat for Humanity, were working on a house for the Contreras family.
Also helping in the cause were three UA football players ¸ Bobby Wade, Javier Martinez and Andre Torrey ¸ as they began construction on a house for the Montaľo family.
The 11 houses are expected to be completed in just over three months, when all 11 families will get to move in.
On campus, a newer version of last year's "Wall of Expression," ¸ the boards erected around campus where students could share their feelings ¸ opened yesterday morning.
Students, faculty and university visitors wrote words of solidarity, hope and peace on five new panels inside the Flandrau Science Center yesterday.
Comments ranging from "Stand proud America" to "Tucson is with you. We will never forget" were posted on the panels.
Other visitors quoted Martin Luther King Jr., wrote thankful prayers; and expressed their feelings in red and blue markers.
"Never has the world lost so much yet has gained everything from it," one student wrote near another comment that read "this day will be remembered for all eternity. We are living history."
Visitors to the exhibit will be charged the regular exhibit admission fees of $3 for adults and $2 for children under three.
The exhibit will be open until the end of September.
Later in the day some students showed their solidarity against hate on the UA Mall.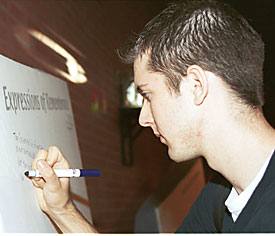 KRISTIN ELVES/Arizona Daily Wildcat
Undeclared sophomore Nick Smith expresses his thoughts about Sept. 11 by writing a quote from Martin Luther King Jr. yesterday on a new commemorative wall.
A 50-foot paper chain stretching across the UA Mall, which was formed from pledges signed by hundreds of students in the residence halls and across campus, was constructed as part of Residence Life's "No Room for Hate Campaign."
Residence Life's El Mundo Diversity Committee formed the campaign as a direct response to the UA community's response to the Sept. 11 terrorist attacks last year.
Pledges were collected from the residence halls yesterday morning.
The pledge chain will be on display at the fifth annual Tunnel of Oppression in October and other events throughout the school year.
At University Medical Center, a group of experts briefed healthcare providers on bioterrorism.
Highly toxic nerve agents could be used as terrorist weapons and are available in most countries with a strong military, said John Sullivan, adjunct assistant professor of pharmacology and toxicology.
Nerve agents tend to be "non-exotic," or commercial, chemicals.
Storage stability, easy manufacture, lack of odor and color and easy dispersal are common nerve agent characteristics ÷ but they are highly poisonous, especially in concentrated amounts.
"I don't think these chemicals have been spoken about much in the media," Sullivan said. "Everyone's focused on the biological. I think that is one of the problems we're facing."
Since water dilutes nerve agents and make them less toxic, water supply is not a likely means of spreading these types of chemicals, Sullivan added.
The detection of anthrax may be getting easier with technology like a new handheld testing strip that can detect anthrax, said Stephen Klotz, a professor of medicine.
While small pox could be form of terrorism, it would most likely be an airborne system and wouldn't spread from human-to-human contact, said Vincent Fulginiti, professor emeritus of pediatrics.
The virus is hidden deep in scabs and people with small pox are going to be too sick to go out in public, Fulginiti said.
At day's end, members of the UA community participated in a vigil and interfaith service on the Mall.
The ceremony included Islamic, Christian and Jewish faiths.
Rev. Dan Hurlbert began with an invocation and a welcome of peace.
Special education and rehabilitation senior Amanda Grant read a story about a man who was on the 85th floor of the World Trade Center's North Tower when the first airliner hit the building. The man survived and came to look at the event as powerfully transforming rather than traumatic.
The ceremony neared its closure after half an hour, when the audience sang to "One Planet, Please," reading the words off handouts.
A moment of silence completed the service followed by the singing of "God Bless America."
During the song, as a symbol of unity, members of the audience filed to the front of the stage where they each took a carnation and exchanged it with someone they did not know.
Cyndy Cole, Daniel Scarpinato and Maxx Wolfson contributed to this report.