McBride excited to come back to Tucson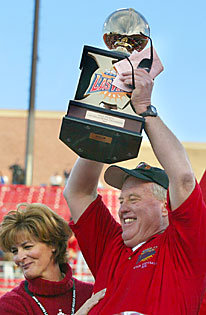 Utah Sports Information Department

Utah's head coach Ron McBride will be back in Tucson this weekend to take on the Wildcats. McBride was an assistant coach under former head coach Dick Tomey for three years.

By Maxx Wolfson
Arizona Daily Wildcat
September 12, 2002


Ron McBride used to ride his bike all over Tucson.

He would peddle to his office everyday at McKale Center or down the street to Bob Dobbs' Bar and Grill.

But that was more than 12 years ago.

The former Arizona assistant head coach and offensive line coach from 1987-89 and current Utah head coach, has not been to Tucson for nearly eight years when Utah played Washington State in the Copper Bowl.

He is excited to return Saturday, especially with the team he is bringing to play the Wildcats.

"We look forward to the opportunity of play Arizona," Mc Bride said. "We know we have our work cut out for us."

McBride and his Utes (2-0, 0-0) played the Wildcats (1-0, 0-0) two years ago, but that game was in Salt Lake City.

Now, he gets a chance to come back to the place he once called home, even though it's missing the one man he called coach.

"I'm a Dick Tomey guy. He was my favorite guy I ever worked for and I enjoyed everyday that I coached for him and he was just a great role model for me," McBride said. "A lot of his philosophy we use here."

Even though Tomey is gone and John Mackovic is in Tucson, there are still two coaches that McBride coached with when he was at UA ÷ defensive coordinator Larry MacDuff and offensive line coach Charlie Dickey.

MacDuff was the defensive coordinator when McBride was at UA and Dickey was a graduate assistant for the Wildcats.

"He has done a great job there," Dickey said. "I'm real excited to play his team.

Dickey might not feel the same way after the game because McBride brings a very talented Utes team on defense.

Utah is only giving up 8 points per game (9th in the nation) and allowing only 35 yards on the ground (4th in the nation).

"They really come at you on defense," Dickey said.

Nine starters return from a defense that led the Mountain West Conference in scoring defense (18.5 points a game) and total defense (308.2 ypg), finishing 13th and 17th in the nation.

Utah runs a zone blitz defense that can cause headaches for any team. Last season they held Southern California to one yard rushing on 25 carries.

"Defensively, Utah is the best zone-blitz team that I have seen in a long time," Mackovic said. "They coordinate their fronts and coverages very well. We really have to block those blitzes."

The Utes defensive line is anchored by senior defensive tackle Garrett Smith, a 2001 first-team all-MWC and 2002 preseason all-MWC, and junior defensive end Jason Kaufusi, a 2001 first-team all-MWC and 2002 preseason all-MWC.

Offensively Utah will be without their top running back in Marty Johnson who will be sidelined 4-6 weeks with a knee injured he suffered last week in Utah's 40-13 win against Indiana.

"Obviously, losing Marty hurts, but we have three quality tailbacks in J.R. Peroulis, Edwin Benton and Brandon Warfield," Price said. "We wanted to redshirt Brandon but obviously we won't now."

Junior Lance Rice, the Utes quarterback, has been starting since the third game of his freshman year and is 12-5 during that span.

Rice is a smart quarterback and seems to be getting better with the more experience he gets. He has yet to throw an interception this season.

His smart play is a testament to his head coach, who has been nearly mistake free since arriving in Salt Lake City.