Building a Foundation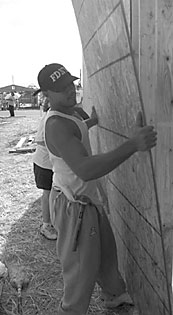 DAVID HARDEN/Arizona Daily Wildcat

Bobby Wade helps carry a piece of plywood for a Habitat for Humanity house that is being built in Tucson. Wade and two other UA football players had to help construct the houses yesterday as a punishment for arrests over the summer.

By Maxx Wolfson
Arizona Daily Wildcat
September 12, 2002


It sounded like a joke.

As punishment for being arrested over the summer, three UA football players would have to help build houses on Sept. 11 instead of missing a game.

However, at the end of the day, each of the three players learned a much more valuable lesson.

Head coach John Mackovic made wide receiver Bobby Wade and defensive linemen Andre Torrey and Javier Martinez participate in Habitat for Humanity's "Building Freedom Day" yesterday as a punishment for getting arrested in fights outside different bars over the summer.

Wade, Torrey and Martinez got an early start on the building process. They were assigned the morning shift which ran from 6:30-9-30 a.m.

The house that the trio of football players would work on is going to be the future home of the Monta–o family öö a single mother with a young daughter.

"It really made me put things into perspective," Wade said. "I was surprised with the whole situation. When coach Mackovic said we were going to do this I didn't think it would serve as much purpose as it did.

"It just made me think about what little part I really play as far as the whole picture of the world and with everything going on."

Their morning started earlier that a summer workout.

5:15 ÷ Wade's alarm clock goes off and he rolls quickly out of bed. He knows if he is late and misses his shift he would likely be suspended. Wade dons the FDNY hat his older brother bought for him at Ground Zero.

6:00 ÷ Wade, Torrey and Martinez arrive to the Tucson Convention Center together at the exact time they are expected. They board the first bus and join the first shift of crew workers of over 300 people.

6:34 ÷ Wade knocks the first nail of the day into one of the walls öö not exactly Karate Kid style with one hit, but it will work. It is the first of many for Wade, who is equipped with a Home Depot tool belt filled with nails and a hammer.

6:55 ÷ Crew leader John Fenton instructs the three players to make sure the wall that they are about to erect lines up with the steel beams it will sit on. He is happy to look over and see both Torrey and Martinez, who weigh over 250 pounds, working for him.

7:20 ÷ The first wall is put up on the Monta–o home. It is the last of the 11 houses being built that day to have a wall erected. However, when building a house, speed is not always a good idea.

7:37 ÷ The first plane of the day ÷ coincidentally a United 737 ÷flies overhead.

8:15 ÷ All four of the walls are now put up and the house is starting to finally look like a house.

8:36 ÷ Siding is put all around the house and the football players are asked to do the heavy lifting. They are really starting to sweat now as the sun finally appears from behind the morning clouds.

8:50 ÷ Krispy Kreme donuts arrive in the food area.

9:11 ÷ With less than 20 minutes remaining in their shift the crew chief evaluates the players' performance. He says, "They were great. I wish we could get the whole team out here one day." Wade thinks the entire team could build a house in 8-12 hours.

9:17 ÷ The new crew is starting to arrive and the crew chief is taking advantage of the last precious moments he has left with the three players. He makes each of them begin to lift parts of the roof.

9:20 ÷ Wade looks at the house next to the one he is working on and says his house is much better. "Now this is how you build a house," he yells.

9:29 ÷ Six workers show up to work on the Monta–o house and each of them make the football players look small. The crew chief is relieved when he sees his reinforcements.

9:31 ÷ Their shift is over and the players are all thanked for a job well done. They hustle over to the water cooler and down some water. Martinez and Torrey grab a couple Krispy Kremes. Wade takes a banana. "That is hard work," Wade said. "Now I know I need to stay in school because I don't want to end up building houses for a living."

3 months from now÷ A brand new house for the Monta–o family.