Workin it at the rec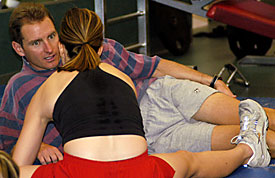 DANIELLE MALOTT/Arizona Daily Wildcat

Two Student Recreation Center patrons chat while working out last week. "The gym is for meeting people, no question about it," said Rec Center employee Maria Mencias.

By Biz Bledsoe
Arizona Daily Wildcat
Tuesday April 15, 2003


Clanking machines, stale B.O., and sweaty grunts ÷ not your ideal place to mix and mingle with campus hotties.

But consider that the Student Recreation Center is the first place on campus some students go when they're in search of some action, exercise or otherwise.

"The gym is for meeting people, no question about it," said Maria Mencias, a Rec Center employee and freshman business major. "It's because of the atmosphere. Everyone sweating, the lack of clothing, the raging hormones of a college crowd."

Mencias has worked at the Rec for only five months, and has already noticed that patrons come more to check out the other hard bodies than they do to work out on their own. Exercise seems to be the last thing on some students' minds when they're supposed to be working out.

According to the National Center for Chronic Disease Prevention and Health Promotion, fewer than 30 percent of all college-aged people in the United States get even moderate exercise. So, if the Rec Center on campus is any example, not many out of that 30 percent are focusing on their health as much as the sexy specimen across the weight room.

Rec Center employees spend a good portion of their days, and even their college careers, at the Rec, and have developed strong opinions about the exact percentages of people who are there to work out versus those who are there to hook up.

"I've worked here for two years, so I've seen it all," said Rick Nundlall, a physiology junior and former Rec employee. "95 percent of the people just come here to flirt ÷ they're talking instead of working out."

Compare Nundlall's analysis with that of Branden Seedall, a three-year Rec employee and a political science and psychology senior.

"Seventy percent of the people are here to meet members of the opposite sex," Seedall said. "You'll see someone here for an hour and a half, and in that time they will actually work out for 10 minutes. The other hour and 20 minutes, they'll stand in little circles talking, or looking at themselves in the mirrors."

Seedall also noticed that there's a time each day when the sexual tension reaches a climax, if you will.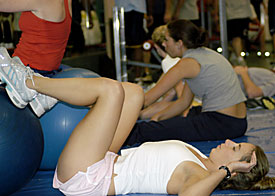 DANIELLE MALOTT/Arizona Daily Wildcat
Psychology senior Tami Thornburg works on her abs last week at the Student Recreation Center. Thornburg said she goes there several times per week to work out.
"You'll see it the most around 5 to 9 p.m. ÷everyone is here dressed up and flirting," he said.
While at the Rec, what you wear sends a big message about whether you intend to exercise your muscles or your flirtation skills.
"You can tell who's here to work out and who's not by the way they dress," said James Cooper, a business and entrepreneurship freshman. "Most people here dress to impress, girls and guys. If they don't care what they look like, then you know they're really here to work out."
And although Cooper claims that all he does at the Rec is work out, he did admit to a little hanky-panky on the side.
"Yeah, I did get a girl's number once," he said. "It's just part of the atmosphere. It's like when you're working out and you see a hot girl checking you out, you don't want to look like a bitch so you do more."
Clothes make an impact on how you're perceived at the Rec, a world where physical fitness goes hand-in-hand with physical appearance.
"Girls always match their outfits and their makeup," said Heather Bahler, a family studies sophomore and a Rec center employee. "If a girl is wearing pink shorts, she'll have pink lipstick and pink shoes on to match."
There's also a debate raging among Rec employees and users alike as to which sex primps the most for a Rec appearance.
"It's a production for both sexes to come work out," said Trevor Kimbler, an ecology and evolutionary biology senior. "But you can smell some girls' perfume as they walk across the gym. It stinks up the whole gym. It's funny to see a girl with makeup just pouring down her face because she's sweating."
Despite his teasing of overly primped girls, Kimbler confessed that it's part of the Rec's appeal.
"I'm not going to complain about girls wearing tight clothes," he said. "It's an added bonus."
"I think more girls dress up to come to the gym than guys do," Mencias said. "Ninety percent of the girls will walk in here wearing necklaces, bracelets, and makeup. Some of them even wear glitter. If you're going to be sweating, why are you wearing glitter?"
Her colleague disagrees.
"Guys do it as much as girls, but in a different way," Seedall said. "You'll see plenty of pretty boys in their brand-new sneakers and their hair gelled to perfection."
Most everyone interviewed said that girls and guys alike are afflicted with the urge to primp and flirt while at the gym. And the ridiculous examples don't end with glitter-splattered girls and guys with salon-styled tresses. It gets worse.
"Guys will color coordinate their whole outfit ÷ hat, shoes, pants," said Kimbler. "Once I saw one guy wearing a beanie with sunglasses riding low on his nose while he was working out."
And as bad as that is, pre-physiology freshman Kristin Davis wins the prize for witnessing the worst gym spectacle.
"I've seen girls exercising on the machines while talking on their cell phones," Davis said.
All that preening and primping can get on the nerves of people who are actually at the Rec to get in shape.
"It's kind of annoying because the beautiful people are there taking up workout space that you could be using," said Amanda Hunt, a music theater freshman. "I don't come to the gym to see gorgeous people draping themselves across the machines."
Most of the girls admitted that they had been hit on while at the Rec.
"When guys hit on you, sometimes it's annoying and other times it's not," said Erin Breidenbach, a special education senior. She, along with friend Tami Thornburg, is a regular at the Rec. "It depends on how a guy goes about it. If they tell us how to work out, that's really annoying, because they think that we don't know how to do it because we're girls."
Thornburg is a psychology senior and a personal trainer at a Naturally Women's gym. She knows that a negative side effect of all the body glitter and designer workout fashions is that serious exercisers get stereotyped.
"We want the respect of hard-working athletes, so it's frustrating sometimes when guys treat you like you don't know what you're doing," she said.
On the whole, however, Thornburg and Breidenbach, like other people at the Rec, feel assured when it comes to getting respect at the gym.
"We feel comfortable and confident when we work out. Usually people respect us here," Thornburg said. "I think (sexual tension) is just the nature of a place where people are working to make their bodies look good. It's going to happen."
Something to say? Discuss this on WildChat