UA holds off Utah rally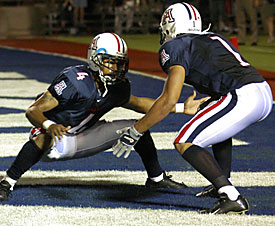 KEVIN KLAUS/Arizona Daily Wildcat

UA wide receivers Bobby Wade and Andrae Thurman celebrate after Thurman's 44-yard touchdown catch in the third quarter. Both receivers set career-highs in yardage in the 23-17 win over Utah. The Wildcats out-gained Utah 459-204 in total yardage but faced a tough fourth-quarter rally.

By Charles Renning
Arizona Daily Wildcat
September 16, 2002


Controversial call in the end zone gives Wildcats 23-17 victory

Head coach John Mackovic said he expected to play a sixty-minute game Saturday.

And that's what he got.

Arizona was able to hold off a last-minute drive by Utah in a 23-17 win in Arizona Stadium and begin the 2002 season the same way it started its 2001 campaign: 2-0.

With only 28 seconds remaining and the Utes down by six, Utah junior quarterback Lance Rice threw a fourth-down swing pass from the UA goal line to senior running back J.R. Peroulis. UA junior safety Clay Hardt closed quickly and tackled Peroulis for a two-yard loss to preserve the Arizona victory.

"I had him on the outside and our whole defense swarmed him from the inside," Hardt said. "We just stepped up and made some plays. We had a lot of people step up and make plays."

However, Utah head coach Ron McBride said the play should never have even happened because two plays earlier, Utah senior receiver Josh Lyman made a diving catch in the back of the end zone over junior cornerback Michael Jolivette, but was ruled out of bounds by the back judge. A television replay appeared to show that Lyman got a foot down in the end zone.

"It was a touchdown. Game over." McBride said. "It's an impossible call to miss. Everybody in the stadium saw it and everyone on TV saw it. It's embarrassing for the (Pac-10). It's the worst (call) I've had in my (37 years) of coaching."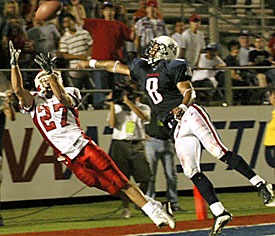 Kevin Klaus/Arizona Daily Wildcat
Michael Jolivette attempts to block a pass that would have been the game winner for Utah, however officials called it out of bounds and UA went on to win the game 23-17.
"It felt like I was in," Lyman said. ""I didn't see a replay. We did what we had to do and got in. You can't ask for more than that. We just have to move on. Offensively, it was a struggle but we did what we had to do at the end of the game. This sucks."
After looking at the tape yesterday, Mackovic disagreed with McBride and Lyman and said the official made the right call.
"I think it was probably the right call; his knee was on the line," Mackovic said.
All in all, McBride still gave credit for the way the Wildcats played.
"This is a good Arizona team," said McBride, who coached at Arizona from 1987 to 1989. "They have big receivers, a good running back, a good quarterback and a good defense."
But if statistics told the whole story Saturday night, the Wildcats would have been the overwhelming winner. Arizona outgained Utah 263-70 in the first half and 459-204 overall. UA also held the nation's No. 2 rushing team to 32 yards. However, what made the difference in the game were three Wildcat turnovers that led to 14 Ute points.
"We had a few turnovers early in our own end and we understand for us to be great we have to score points," said UA senior quarterback Jason Johnson, who set a new career high for the second-straight game Saturday, passing for 416 yards on 25-for-36 passing and two touchdowns. "It just feels great to get a close victory."
Johnson connected with senior Bobby Wade on a 47-yard fade down the sideline in the first quarter as the Wildcats jumped out to a 7-0 lead. Wade was able to get good separation from Utah cornerback Arnold Parker and outrun him for the touchdown.
---
Player of the game: UA wide receiver Bobby Wade ÷ The senior set a career-high in yards with 175 and had nine catches with a touchdown. Wade gave Utah's top cover man Arnold Parker nightmares all night en route to the 10th-best receiving game in UA history.

Play of the game: With 28 seconds left and the Utes facing a fourth and three from the four, UA safety Clay Hardt made a game-saving tackle on Utah's J.R. Peroulis for a 2-yard loss at the 5-yard line.

Stat of the game: The Wildcats out-gained Utah 459-204 in total yardage.

Extra points: The only significant injury that Mackovic reported was to freshman offensive lineman John Parada. Parada, who left the game in the fourth quarter, is questionable/doubtful for the Wisconsin game with a knee sprain ·
---
The game's attendance was 44,243 almost 4,000 fewer than the season opener against NAU · UA freshman punter Danny Baugher kicked a 47-yard punt in his collegiate debut · Arizona running back Clarence Farmer was held to 18 yards on 17 carries in the second half. The preseason All-American candidate finished the game with 79 yards on 33 carries · Utah was without the nation's leading rusher in Marty Johnson. His replacement, Peroulis, was held to 18 yards · UA, 0-5 against bowl teams a year ago, defeated the first of six bowl teams on it plays this season.
Senior kicker Sean Keel, who made three field goals Saturday, made two in the second quarter from 21 yards and 19 yards to give UA a 13-7 halftime lead.
Early in the third quarter, the Wildcats added to their lead when Johnson found junior receiver Andrae Thurman on a slant. Thurman was able to break a tackle and complete the 44-yard score. Like Wade, who had a career-high in yards receiving with 175, Thurman also set career-marks with nine catches for 165 yards.
One minute after the Thurman touchdown, UA senior Lance Briggs forced a fumble in Utah territory, which led to a 39-yard Keel field goal, pushing the Arizona lead to 23-7.
For the second week in a row, the UA rushing game was held to minimal yardage, but the passing game picked up the slack. The Wildcats rushed for only 14 yards in the second half.
"We knew they where going to pack eight in the box and that we'd be able to go over the top on them," Wade said.
Utah was able to cut into the Wildcat lead when Utes wide receiver Paris Jackson made a leaping catch in the back of the end zone. A Utah field goal by freshman Bryan Borreson was as close as the Utes would get.
"This is the first time we have really stepped up and won this kind of game," Mackovic said. "It shows how far these guys have come."