No disappointment after first women's soccer loss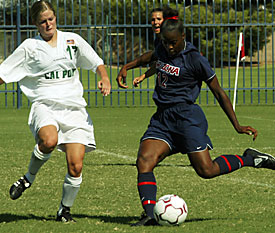 KEVIN KLAUS/Arizona Daily Wildcat

UA women's soccer player Maggie MacCool attempts to go around a Cal Poly player earlier in the season. The Wildcats suffered their first loss of the season yesterday to Oklahoma 2-0.

By Ross Hammonds
Arizona Daily Wildcat
September 16, 2002


Sometimes the better team is going to win, as the UA women's soccer team learned this weekend in Oklahoma, falling 2-0 to the undefeated Sooners.

"I'm not disappointed, we lost to a better team," UA head coach Cathy Klein said. "I am excited about the potential I saw in us."

The Wildcats (3-1-1) are still off to their best start ever and the Sooners add to their perfect mark (6-0-0).

The teams played to a stalemate in the first half with Oklahoma out-shooting Arizona 8-5, although UA had more shots-on-goal, 3-2.

The UA started nine underclassmen, from a team featuring 18 freshmen and four upperclassmen.

"We looked very inexperienced out there. A game like this shows us how good we can become because we have the tools to compete," Klein said.

It only took three minutes in the second half for the double zeros to be replaced with some digits. Sooner Logan Womack put Oklahoma up for good in the 48th minute and her teammate Krissy Dawson notched one up in the 52nd minute, both unassisted.

"They scored quickly in the second half," Klein said. "But that was our inexperience and their maturity showing through."

On the day, Arizona was out-shot 16-9 by the Oklahoma attack but the shots-on-goal were closer with Oklahoma leading 6-4 in that category.

Arizona's season scoring leaders, senior Naomi Chu and freshman Mallory Miller led the team, each toting up three shots on the day.

Last year's scoring leaders, sophomore Candice Wilks and sophomore Vanesha Bailey, each recorded two shots on the day.

Freshman goalkeeper Amanda Martin logged four saves on the day.

Arizona plays at home next weekend for the first time in three weeks when they take on San Diego Sunday.