UMC nursing awarded with top recognition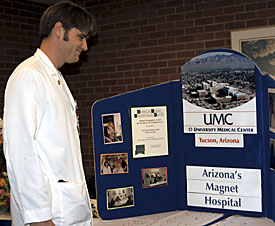 MELISSA HALTERMAN/Arizona SummerWildcat

Dan Stein, Internal Medicine Resident atUMC examines a display marking the recent honor given to the hospital. UMC is now the only magnet hospital in the state.

By Arek Sarkissian II
Arizona Summer Wildcat
Wednesday July 16, 2003


Nurses, physicians and other UMC staff reveled over their achievements on Thursday, as they sipped margaritas and munched on Mexican food while listening to a mariachi band.

As if getting through the first week being the only level one trauma center in Southern Arizona wasn't enough, last month, UMC also became the only magnet hospital in the state.

The magnet recognition, according to Arizona Nurses Association executive director Marla Weston, means University Medical Center has become of the top 1 percent of facilities in the nation to be recognized for having an elite-level nursing staff.

And the recognition couldn't have come at a better time. Starting July 1, University Medical Center became the only hospital to accept level one trauma patients, meaning only they can take the worst of the worst patients, except in extreme circumstances.

However, UMC Chief Executive Officer Greg Pivirotto said they've anticipated the switch for a few years now, and were already well prepared.
---
HOW LEVEL ONE TRAUMA WORKS
· All trauma patients will go to UMC. However, if UMC can't take a patient because it's too busy, they will decide whether paramedics should take the patient to the closest area hospital.
· Patients who aren't being transported by ambulance can still go to any area hospital for treatment
· The purpose of level one trauma is to surround a patient with all areas of medical expertise.
Information courtesy of Capt. Paul McDonough, spokesman for Tucson Fire.
---
"We could kind of see it coming; we were already well prepared," Pivirotto said. "We couldn't wait until the 11th hour."
Pivirotto said being recognized with the highest national nursing honor will help sure up the already steady flow of nurses brought in through recruiting, which is what the American Nurses Credentialing Center set out to do when it created the magnet recognition program in 1994.
The label was originally given to a group of U.S. hospitals that were able to successfully recruit and retain professional nurses during the national nursing shortage in the early 1980s, Weston said.
Once word got around that Magnet facilities attracted higher quality nurses, and increased overall performance of those already employed, the list of hospitals waiting to be accredited filled up quickly, she said.
Weston added that one of the greatest qualities that made UMC stand out as an exemplary facility was its open ear policy to nurses, allowing them to have a say on how things should be run.
Most nurses at Thursday's celebration who could find time away from their work proved the other purpose of the recognition: to increase moral.
"This is awesome! It really shows how hard we're working to care for kids," said Wendy Hintz, as she snuck away from the party to head back to her post at UMC's Pediatric Intensive Care Unit.
Something to say? Discuss this on WildChat