A Modern Stone-Age Fantasy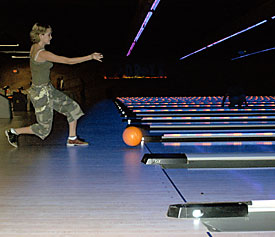 Joshua Sills/Arizona Summer Wildcat

Jaque Airth, 15, bowls a frame at Bedroxx. The arcade, bowling alley and bar opened Thursday next to Hooter's on West Ina Road.

By Hayley Contant & Kevin Smith
Arizona Summer Wildcat
Wednesday July 16, 2003


Bedroxx brings fun, games to Tucson

Smith: The old and troubled Gotham nightclub that was next to Hooters on Ina has been transformed into a "Flintstones-meets-sin city" style family fun world. The place is like a Chuck E. Cheese's for grown-ups or a casino without gambling. It houses 31 fluorescent-lit bowling lanes, a 30-foot ice bar, tons of new video games, and pool tables.

Bedroxx aims to be family friendly. So you can take your precious little ones, fill them up on Pepsi and watch them run around for hours while you numb yourself on pitchers of Bud Light. Family fun with Hooter's a few steps away: a Tucson tradition.

Contant: We were pleasantly surprised that there was no admission fee to enter. The lighting was dim except for the neon lights glaring at us from the bowling lanes and the 22 huge video screens that played cartoons and ESPN. We followed the leopard print carpeting into the leopard lounge where there were 13 black felt pool tables with hourly prices ranging from $3-$6 Monday through Thursday to $3-$9 Friday-Sunday, golden tee, more big screens on the wall and teenagers making out in the corner.

Smith: I played "Hyperbowl," which is an interactive computer bowling game. It's played on a nearly 10-foot high screen with a bowling ball that acts like a computer mouse as you guide the ball on screen towards sets of pins in various locations such as Rome and San Francisco. The best part was you could play a whole bowling frame with up to four people. The downer was that the selected scenery gets repetitive.

It's weird that they have two of these machines, then 31 lanes of actual bowling. I guess if you're too drunk to go through the physical motions of an actual game of bowling, you can just stand there and play with your hands.
---
Low Down
Bedroxx Bowl 4385 W. Ina Road, Marana
Mon. ÷ Thurs. 9 a.m. ÷ midnight
Fri. & Sat. 9 a.m. ÷ 2 a.m.
Sun. 9 a.m. ÷ midnight
For more info call 744-7655
---
Contant: The bar in the lounge offers a wide selection of drinks from draft beer to mixed drinks with prices ranging from $2 for a draft beer to $6.25 for a pitcher. The bartender, Carla Salas, 29, said that there is nothing at the bar over $5.25.
The bar is supposed to be solid ice so you can keep your drink cool, but the ice bar wasn't working so there was an inch of water with little rubber ducks swimming around in it.
Smith: The pizza parlor bears the name of the famed campus eatery No Anchovies, even though the pies are made by the staff on-site. Soon, you'll be able to order the complete Hooter's menu from next door. I don't think, however, that the scantily clad waitresses will be serving the wings.
Contant: Right up by the snack bar is the state-of-the-art arcade with over 100 games, which range from an interactive Harley Davidson ride to the old favorite, skeeball. Kevin played a game called "Mad Wave Motion Theatre."
Smith: It was cool. You lie down on this seat and pick one of three computerized racing scenarios from this giant flat-screen in front of you. Then as the race begins on the screen, the chair tosses and tilts you as the virtual car takes hard turns and crashes. The only catch is that you have no control of the game. It's like watching a computer generated racing movie.
It was fun, but at a pricey $3 per game I don't think I could afford to stay entertained all night.
Contant: What's convenient about this arcade is that you don't have to walk around with a pocket full of quarters. Instead, you purchase a plastic card for $1 and you add money to it÷like the smart-chip on your CatCard. But this card also keeps track of how many tickets you win. If only you could win beer instead of prizes. . .
Smith: My one worry for this place is that it might lure the same troubled clientele that Gotham often attracted, so it's a tough call to determine the future of this place.
There is also the fact that it's marketed as a bar and a family fun place. It would be hard to imagine a wholesome family taking their kids bowling and video gaming, while other patrons are getting drunk, and shooting pool.
But for UA students I think this place is worth checking out if you have the gas to get over to Ina Road for an afternoon. It takes almost 20 minutes to get there from campus, without traffic on I-10.
Contant: Bedroxx is definitely a place to check out if you are tired of the Lucky Strike crowd, but don't expect to just be sitting around with other college students quite yet. The range in age at the grand opening was anywhere from junior high kids to 40-somethings hanging around the bar.
---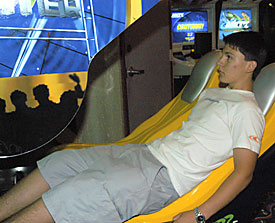 Joshua Sills/Arizona Summer Wildcat
Josh Smithee, 15 enjoys playing "Mad Wave Motion Theatre." The game is a virtual ride offering choices from a car races to skee-ball.
Bedroxx Game center a form of redemption for owners

By Kevin Smith
Arizona Summer Wildcat
Wednesday July 16, 2003

The owner's of the new Bedroxx fun-world are trying to change their image. That is the word according to their press representative, Deb Weisel.
The pair, Kirby Bond and Tony Dellheim, was involved in the ownership of Gotham/New West nightclubs.
According to the Arizona Daily Star, Alex Anthony Betancourt was shot and killed by Marana police outside the club after he pointed a gun at them in November 1999.
The club saw its second fatality in January 2000, after the asphyxiation death of Wes Lee Tanawa Hamilton, 24. He died after being smothered by four of the club's bouncers in an attempt to restrain him after a fight. No one has yet been prosecuted.
Then on July 4, 2001, Jesus Antonio Montano, 24, was shot twice in the chest outside the club and later pronounced dead at University Medical Center. Two others were also injured in the shooting.
Fights and scuffles seemed to be common at the former hip-hop club Gotham, which shared the same roof as the country-flavored New West.
Now, Bond and Dellheim are looking to distance themselves from their past.
"The owner's of Gotham and The New West just wanted to do something that was positive and constructive," Weisel said.
She also said that the owners are not worried about repeat incidents or the thuggish clientele that Gotham brought.
"Even on Saturday night we stopped by there and there are tons of families and [it was] very upbeat, positive. . . . There'll always be teenagers, but its not live music, bands... issues," she said.
Weisel said that the owners didn't expect that Gotham would turn into such a shady scene, and they see Bedroxx as a form of redemption.
"[They wanted] to turn something so destructive around to something so constructive. It was available and they knew the area, and they knew the community," she said. One of the owners, Tony Dellheim, grew up in Tucson.
"To bring something good and constructive here, I mean, that was something he was heartfelt about," Weisel said.
Although Bedroxx does serve alcohol, Weisel thinks the atmosphere makes all the difference.
If the plan is a success, Weisel said the owners plan a national chain of Bedroxx fun-worlds.
Currently, Bond and Dellheim are involved in nightclubs similar to the Gotham nightclub in New Mexico and California.
Something to say? Discuss this on WildChat