Regents extend conditional admission plan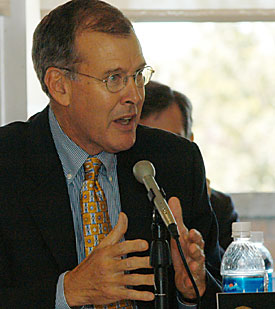 SAUL LOEB/Arizona Daily Wildcat

Regents' President Jack Jewett discusses budget plans for fiscal year 2004 at the Arizona Board of Regents meeting in Tempe on Friday. President Peter Likins requested $12 million for research buildings.

By Cyndy Cole
Arizona Daily Wildcat
Monday September 30, 2002


Though regents are considering making admissions more selective, they extended a plan to allow students who are behind their peers in one or more subjects to be admitted on the condition that they take remedial courses during their freshman and sophomore years.

The number of students coming into UA who do not meet the admission requirements in at least one area dropped from 31 percent in 1997 to 1998 to 23 percent in 1999 to 2000.

Students who are admitted on a conditional basis are in the top 50 percent of their high school class or have high school GPAs of at least 2.5, ACT scores of 22 or SAT scores of 1040.

Students who are guaranteed admittance meet one of the testing criteria, have a 3.0 high school GPA or higher, or rank in the top 25 percent of their high school class.

The regents extended conditional admission until 2004. The policy would have expired this year, otherwise.
---
UA received $8.4 million in grants for cancer research and funding for water research in semi-arid regions.
The two grants for cancer research from the National Cancer Institute total $5.2 million and each last for one year. One of the projects involves research on skin cancer.
---
Healthcare and hospital CEOs met with Regents during an August retreat to discuss issues of concern, like shortages in the medical staff workforce.
One of the regents' long-range goals is to increase the number of medically trained graduates from UA and the Arizona Health Sciences College.
University presidents are expected to come up with suggestions for boosting the number of graduates in the medical field and increasing worker retention in hospitals.
Next year, the College of Medicine will begin accepting 110 more applicants to be physicians per year in fall 2003, up 10 from this year, and will accept 120 applicants for fall 2004.
---
The Arizona Board of Regents gave the Department of Residence Life the go ahead to buy Sigma Kappa Sorority's house at North Vine Avenue and East Helen Street and eventually convert the house into a residence hall for freshman women during a meeting in Tempe on Friday.
The sorority would relocate from the house at 1125 N. Vine Avenue, and the women living in the house will be invited to rent the two-story house from Residence Life as they wait for a new house to be completed.
The house is the last non-UA property on the block. UA has been planning to relocate student organizations on the block since 1992.
Residence Life will pay $1,400,000 for the house, using funds from the sale of the former graduate student housing complex, Christopher City.