UNT win may prove costly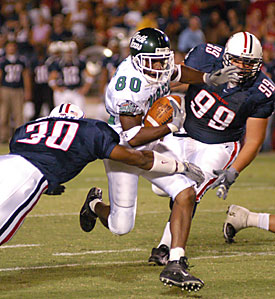 SAUL LOEB/Arizona Daily Wildcat

UA defensive back Pat Howard, left, and defensive lineman Vince Feula, right, try to tackle UNT wide receiver Kevin Howard on Saturday night in Arizona Stadium. The Mean Green out-gained the Wildcats in total offense, 431-310.

By Charles Renning
Arizona Daily Wildcat
Monday September 30, 2002


Farmer's status still unknown after injury

Arizona might have won Saturday night's final non-conference game against North Texas, but it could have lost even more than it gained.

After struggling offensively for the second-straight week, the Wildcats held on for a 14-9 victory against the Mean Green (1-4) in half-filled Arizona Stadium. In the process, Arizona may have lost several key players to injuries just a week before conference play begins against Oregon.

Already shorthanded without cornerback Michael Jolivette (knee) and left tackle Darren Safranek (knee), the Wildcats saw two offensive starters ÷ junior running back Clarence Farmer and senior defensive tackle Brad Brittain ÷ leave in the fourth quarter with knee injuries.
---
Final Score 14-9
| | | | | | |
| --- | --- | --- | --- | --- | --- |
| Score by Quarter | 1 | 2 | 3 | 4 | Final |
| North Texas(1-4) | 3 | 3 | 3 | 0 | 9 |
| Wildcats(3-1) | 0 | 14 | 0 | 0 | 14 |
| | | |
| --- | --- | --- |
| | North Texas | Arizona |
| First downs | 21 | 20 |
| Yards rushing | 282 | 121 |
| Rushes | 60 | 35 |
| Yards passing | 149 | 189 |
| Completions-Attempts | 12-18-1 | 16-27-0 |
| Penalties-Yards | 6-65 | 6-42 |
| Time of Possession | 31:21 | 28:39 |
Passing North Texas: Andrew Smith 12-18, 149 Yards Arizona: Jason Johnson 16-27, 189 Yards
Rushing North Texas: Kevin Galbreath 22-104 Arizona: Clarence Farmer 15-70
Receiving North Texas: George Marshall 6-82 Arizona: Bobby Wade 4-37
Play of the Game With 2 seconds remaining in the half UNT's Nick Bazaldua attempted a 36-yard field goal, but it was blocked by Carlos Williams. Gary Love returned it 65 yards for a touchdown and a 14-6 lead.
Player of the Game Junior Gary Love ÷ Making his first career start as cornerback in place of the injured Michael Jolivette, Love played the entire game and notched a career high in tackles with eight. His return of a blocked field goal for a touchdown turned out to be the difference-maker in the game.
---
"This time of the year, people always start to get banged up a bit," head coach John Mackovic said. "It was a very hard game to win."
With less than two minutes left in the game, Farmer was helped off the field and first reports are that he suffered cartilage damage to his knee. He will undergo an MRI today and more will be known after the results are released. Also, senior linebacker Lance Briggs missed most of the second half with ankle problems.
During the week leading up to Saturday's game, the Arizona defense put emphasis on causing turnovers, and that is what made the difference against the Mean Green.
"Whoever wins the turnover battle, wins the game," senior defensive tackle Young Thompson said. "Our defense came up big. We got a couple turnovers, which really turned the game around."
The biggest turnover came with two seconds left in the second half, when North Texas freshman kicker Nick Bazaldua came on to attempt a 36-yard field and give the Mean Green the lead going into the half.
However, sophomore defensive tackle Carlos Williams got a hand on the kick and junior defensive back Gary Love picked up the loose ball and took it 60 yards for the score. The touchdown put the Wildcats up 14-6 and gave them momentum going into the half.
The Wildcats forced their first turnover midway through the second quarter when North Texas quarterback Andrew Smith's fumble was recovered by UA junior safety Clay Hardt.
On the Wildcats' first offensive play following the fumble, freshman tailback Mike Bell ran in untouched from 14 yards out to put UA up 7-6.
Arizona won the turnover battle 3-0 and scored all 14 of its points off UNT's miscues.
Senior David Hinton made his mark on the stat sheet. He forced a fumble early in the fourth quarter that was recovered by sophomore linebacker Pat Howard, and also picked off a Smith pass midway through the third quarter.
The Wildcat defense kept the Mean Green in the game by giving up 431 yards of total offense. UNT was ranked dead last out of all 117 Division I teams in total offense before the game.
"Our defense was kind of Îbend, but do not break,'" said senior quarterback Jason Johnson, who was 16-of-27 passing for 189 yards and no interceptions. "They came up huge with some critical stops and they did what it took to win."
The biggest stop of the game came in the first quarter when the Mean Green ran a fullback give to sophomore Patrick Cobbs on fourth-and-goal from the one- yard-line.
The UNT fullback was stopped short of the goal line by Hardt and senior linebacker Ray Wells and lost possession on UA's one-yard line.
While the Wildcats were able to stop the Mean Green on that drive, UA can sympathize with UNT's success öö or lack there of öö in the red zone.
Prior to the North Texas game, UA had only scored two red zone touchdowns in three games, settling for field goals most of the time.
"It's an offense's job to score points," Johnson said. "If you can't score touchdowns, you are not getting the job done."
It was more of the same against North Texas.
Senior kicker Sean Keel missed two field goals form 26 and 32 yards and had a 23-yarder blocked. His back-up, junior Bobby Gill, also had a kicked blocked from 44 yards out.
Mackovic said yesterday that the Wildcats have to be able to establish the run to be successful in the red zone.
If Farmer will miss an extended period of time, and with freshman Gainus Scott already injured, the burden will fall on freshman Mike Bell. Bell totaled 50 yards on 14 carries Saturday, but Arizona could only muster 121 yards rushing led by Farmer's 70 yards on 15 tries.
"Our timing isn't very good right now, and the running game is all about timing," Mackovic said. "That has to do with our shuffling people in and out, and some of it has to do with our young backs."
Game notes
UA senior receiver Bobby Wade extended his consecutive games reception streak to 35·
North Texas ran a season-high 78 plays for a season-high 431 yards, 60 of which were run plays for 282 yards·
10 different UA players caught passes in the game·
The crowd of 37,917 was the smallest crowd at Arizona Stadium for a UA game since Nov. 15, 1997 against Cal (37,111)·
Bell's second quarter touchdown was the first of his college career·
Sophomore receiver Ricky Williams and junior receiver Juan Valentine made their first career starts when the Wildcats opened the game with a five-receiver set·
Love's blocked field goal return was the Wildcats first special teams touchdown of the season·
For the first time all year, freshman Danny Baugher handled all of the punting duties. He averaged 37.5 yards per kick·