ASU snaps Wildcat win streak with home sweep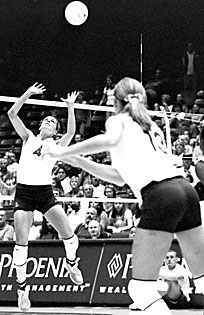 ANIEL BERDANER/Arizona Daily Wildcat

Senior setter Laurie Gardner attempts to set the ball to senior Lisa Rutledge last week against USC.

By Brian Penso
Arizona Daily Wildcat
Monday September 30, 2002


The UA women's volleyball team was unable to extend its five-match win streak over the Sun Devils on Friday night in Tempe, as the visiting Wildcats were swept.

The 12th-ranked Wildcats (6-5 overall, 1-2 Pacific 10 Conference) battled, but unranked Arizona State was the last team standing as they defeated the Wildcats 3-0 (31-33, 26-30, 40-42) to pull the upset.

"Losing to our rival is tough," freshman hitter Kim Glass said. "We are upset, but it is just like any other Pac-10 match. It was a pride killer, but we are treating it like any other loss."

After losing the first two games, the third game was a fight to the end that Arizona was unable to win.

Head coach David Rubio ran out of substitutions due to the length of the final game.

Without Arizona's usual blockers at the net, ASU had easier opportunities to attack.

"The last game was difficult," Glass said. "We ran out of substitutions and we had defensive players at the net."

Rubio said the Wildcats played well offensively, but Arizona lacked the killer instinct to put teams away when they had an opportunity to do so.

"Losing to ASU is disappointing," Rubio said. " It cuts pretty deep losing to them, but we have to be resilient and move forward. We played well offensively, but we are playing more to lose than to win at crucial points in the match."

Glass led the way once again for the Wildcats as she finished the match with a team-high 15 kills and 12 digs. This marks the seventh time this season Glass has led or shared the lead in kills in a given match.

Senior outside hitter Lisa Rutledge, who has been the model of consistency for the Wildcats, struggled with only eight kills on a dismal .034 hitting percentage.

"I don't think either of us brought our ÎA' game," said Glass about Rutledges' play and her own. "Everyone is going to have an off-night. It is really difficult to play great in every game over the season."

Freshman Bre Ladd and senior Shannon Torregrosa combined for 18 kills on 36 attempts.

"One of the highlights from the match was the play of our middles," Rubio said. "We need to continue to be efficient offensively and get them the ball."

Ladd was the only other Wildcat to finish in double figures as she posted 10 kills and a team-high four blocked assists.

The Wildcats will look to bounce back when they travel to the Pacific Northwest to take on Washington and Washington State beginning Thursday.