According to Bush, I am a Saddam lover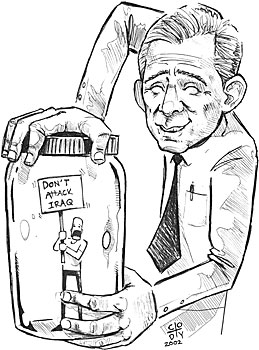 Illustration by Cody Angell

By Jessica Lee
Arizona Daily Wildcat
Monday September 30, 2002


Friday was a dark day for democracy in Arizona. On Friday, I was told by our president that I am with Saddam Hussein.

President George "War" Bush graced Flagstaff and Phoenix with his presence as part of a national swing to raise money for Republican candidates. Speaking to support candidate for governor Matt Salmon and Congressional District 1 candidate Rick Renzi, Bush only contributed a third of his speeches to promoting these candidates, using the majority of his time to recite hollow rhetoric to gain support for action against Saddam Hussein.

Although his visit was deemed a "success" because he raised $1.7 million dollars for the Grand Old Party, much of his accomplishments happened because the dark hand of national security silenced those who came out to voice opposition.

Residents of Flagstaff, many of whom are part of the Flagstaff Activist Network, organized an "unwelcoming Bush" protest. Leader of the group, Roxane George, had worked hard within the community and the Flagstaff Police Department to prepare a non-violent demonstration to greet the president who came to speak at the Coconino County Fairgrounds. About 700 rallied (me included) to voice their opinion, only to find the designated protest spot, the small area for which the Flagstaff Activist Network had obtained a permit, was over a hundred-yards away from where the president's motorcade would pass by.

And moments before Bush did zoom by in his black limousine, a few huge white vans arrived and parked on the side of the road so the protestors could not see the presidential battalion.

Nor could Dubya see our anti-war demonstration. We were silenced.

We discovered that democracy is alive and well in this country as long as you practice it behind closed doors or are pushed out in the middle of the forest.

One of the more repulsive and offensive remarks our great president made to the Flagstaff crowd was, "Either you are with us or with the enemy." Our un-elected president aggressively divided residents of Flagstaff into either Bush supporters or Hussein lovers.

A comment like that implied the 700 people opposed to war were actually siding with Saddam. Bush lumped peace activists made up of ministers, college students, professors, concerned citizens, American Indians, Vietnam War vets and young adults with one of the most horrendous dictators currently on the planet.

Through freezing cold rain and wind, the protestors lined our confined area, displaying homemade signs and chanting phrases such as "stop the war before the war" and "don't attack Iraq."

Many people on their way to attend the speech inside the gates of the fairground were disgusted to be witness of democracy in action. Covered in patriotic clothing inside SUVs, Bush supporters glared and some even stuck their tongues out at us drenched citizens who chose to exercise our First Amendment rights.

It was as if we were personally offending them by not sharing their particular views. What has happened to the American way ¸ the right to agree to disagree?

Demonstrators in Phoenix met the same fate, as the president also avoided them. Six peaceful protestors were arrested, one including Eleanor Eisenberg, the executive director of the Arizona affiliate of the American Civil Liberties Union. The irony is too disgusting.

While fellow anti-war supporters took the streets of London, all 400,000 of them, we in Flagstaff held up our signs ¸ and our chins ¸ proudly. Painted words on cardboard read such messages as "Patriots ask questions," and "Save the world for democracy ¸ invade Florida."

Many professors at NAU canceled Friday classes so they, and hopefully their students, would support the peace rally. "Our country is in the most precarious situation since I can remember," interjected Jeanette Rodda, labor history professor. "It is not only my opposition, but it is my obligation to be here."

As Congress continues its heated debate on whether to give President Bush complete power to attack Iraq, it is our duty as Americans to continue speaking out for peace.

Whether it happens through independent media, by marching the streets, mass e-mails, supporting grass roots organizations or in handcuffs, we must scream through the star-spangled duct tape that has been placed across our mouths by the Bush mainstream national agenda.