Training cadets to live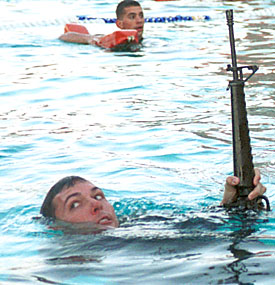 DEREKH FROUDE/Arizona Daily Wildcat

Dan Caffarel, psychology junior and Army ROTC cadet, tries to keep his gun dry while treading water in the Student Recreation Center swimming pool yesterday. The lab trains cadets in how to survive emergency water situations.

By Laura Malamud
Arizona Daily Wildcat
Thursday October 10, 2002


Most students were still sleeping at 6 a.m. yesterday, but not Army ROTC cadets. They were preparing to be pushed, fully clothed and with shoes on, into a swimming pool.

About 40 students, dressed in camouflage, anxiously awaited orders from their commanding officers on the pool deck before jumping into the annual water survival training course where they practiced water skills needed for combat.

"This is a lab focused on water confidence, getting people to swim with their equipment, strengthening their swimming and teaching them how to make floating devices," said Cadet Battalion Commander Aimee Hemery, a psychology senior.

Students were pushed off bleachers blindfolded in order to simulate a surprise encounter with water.

The other events used load-bearing equipment, like a plastic gun the same weight as a regular gun, in order to show how a weapon should be carried above water while swimming and how to shed the equipment underwater during an emergency.

"What we are trying to do is teach them the foundation of water survival," said Nick Williams, the Cadet Recruitment Operations Officer and psychology senior.

Many of the cadets were a little anxious to do the course, but thought they would gain needed experience from the training.

"You never know when you will be in a situation where you will be placed in the water," said Michael Rendes, an ecology and evolutionary biology senior. "It gives you the skills necessary to survive in a water environment."

The test is part of the program for students signed up to go into the army after college, but it is not required for all students enrolled in the ROTC program. A similar test is given at the National Advanced Leadership Camp during the summer that students have to eventually pass in order to continue into the army after college.

The course took about an hour to complete, and despite the sore muscles and tired looks, most people still had a smile on their face, along with new water knowledge in their possession.

"It sucked because you had two canteens full of water so it starts to drag you down," said Donel Davis, a political science junior. "It is a lot of fun though."

The main goal of the water survival course is to teach cadets how to escape emergency water situations, but Hector Acosta, professor of military sciences, said the cadets learn more than just training.

"They gain confidence and once you get confidence you get better at leadership," Acosta said.