Johnson eager to return home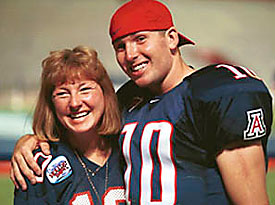 File Photo/Arizona Daily Wildcat

UA senior quarterback Jason Johnson will head back home to Washington this weekend when he takes on the Huskies. His parents (mom Holly with Jason above) watch every one of their son's games.

By Charles Renning
Arizona Daily Wildcat
Thursday October 10, 2002


There is no place like home, unless the Dawgs at home are waiting for you and looking to take off your head · again.

When Arizona travels to Washington on Saturday, senior quarterback Jason Johnson will be returning home for the second year in a row. The last one he probably doesn't want to remember and ÷ after the hit he took ÷ he might not.

On the second-to-last play of the first quarter in Arizona's 31-28 loss to Washington last year, Johnson was struck in the head by Washington safety Wondame Davis and suffered a concussion. He stayed in the game for two more plays, but was then replaced by back up John Rattay.

The hit that Wondame put on Johnson was labeled illegal by head coach John Mackovic, but no penalty flags were thrown.

The Wildcats lost to Washington with 13 seconds left in regulation when junior quarterback Cody Pickett ran in the go-ahead score.

"It was really frustrating to be on the sidelines at the end of that game and watch them come away with a victory on the last play," Johnson said.

"(Last year) he had a great first quarter," Mackovic said. "(In Washington) we really need Jason to play well."

Johnson was born and raised in Puyallup, Washington, a town of about 30,000 is located between Seattle and Tacoma. This will be the fourth time in his five years at Arizona that Johnson has been able to go home and play where he grew up.

"I'm so excited to go home. To play in front of a lot of people who only see me play on TV is really special," Johnson said. "To play in that environment is a memory of a lifetime."

Johnson said he was never really a big Husky fan growing up because of his close ties to Pacific Lutheran University. Frosty Westering, Jason's grandfather, has been the head coach at PLU since 1972 and is one of only eight college coaches to win more than 250 games. Scott Westering, his uncle, is also a long-time coach at PLU and is the team's current offensive coordinator.

Johnson said that being able to speak with both of them on a regular basis has really helped to keep his focus throughout the long season.

Johnson was recruited out of Rodgers High School to play for the Huskies and had planned a trip to UW, but after he came down to Tucson and saw the sunshine, his decision was made.

With all of the hype and added distractions that come with returning home to play, Johnson refuses to add any extra pressure to this weekend's game.

"I think whether it's a big game or small game, once you are out there on the field, everything is the same: It's just football," Johnson said. "I don't think I put pressure on myself, but at the same time, I think I'll savor this victory a little bit more if we can get it done."