Staff Picks

Arizona Daily Wildcat
Thursday October 10, 2002


Arizona at No. 18 Washington

UA wideout Bobby Wade is on pace to finish the season with over 1,400 yards and 100 catches. The postseason committee can send the Belitnikoff Award to the engravers now, since this guy isn't slowing down anytime soon. Also, Jason Johnson is ticked off about U-Dub ruining his homecoming last year (concussion), and won't let it happen again.

UA 47, Washington 44 (3 OT)

No. 12 Florida State at No. 1 Miami

Who are the best two teams in all of college football? Answer: (1) Miami's starting lineup, and (2) Miami's second string. The only reason that Dorsey and his fellow starters won't win any individual postseason hardware is because they are always on the bench by halftime. They will still win the only postseason award that matters: the Sears National Championship Trophy.

Miami 42, Florida State 20

No. 7 Oregon at No. 25 UCLA

Oregon came to Tucson last week, struggled in the first half, was held at bay in the second, and still beat Arizona by 17. That's no knock on the Wildcats, all it means is that the Joey-less Ducks are still that good. The Bruins can win if they don't win the turnover battle, but Jason Fife and Onterrio Smith just don't make mistakes.

Oregon 31, UCLA 14

No. 3 Oklahoma at No. 2 Texas

A, E, I, O, U· And sometimes Y, as in OU QB Nate Hybl, the starter-turned-backup-turned-starter-again who seems to have finally found his niche, throwing for over 300 yards last weekend. Chris Simms' legacy at Texas will defined by one of two things: A spectacular performance here, or his four interceptions last year against the Sooners. Expect the latter.

Oklahoma 20, Texas 13
---
Arizona at No. 18 Washington
Rick Neuheisel is a guitar-playing, river-rafting, program-sinking, makeup-wearing, long-haired hippie, not to mention a cheat. Not only does Slick Rick kill a program faster than I can stuff bundles of papers into the bin in front of the Econ building, but he is not a good coach. That said, his wife is by far the hottest in the Pac-10: Give him the win.
Washington 27, UA 13
No. 12 Florida State at No. 1 Miami
Miami could beat the Bengals. Florida State's quarterback situation resembles the Bengals'. This is not a good omen going into the Orange Bowl to take on the nation's best team. The Hurricanes' defense is tougher to get by than Mary Hanson, who works at the dean's office in McClelland. I know she always slows us down in the morning.
Miami 42, Florida State 14
No. 7 Oregon at No. 25 UCLA
You know the feeling you get when the papers are out when you go to get yours? That's the feeling that UCLA coach Bob Toledo will have while looking at film of Onterrio Smith running all over his sorry bunch of defenders. Smith is so good that nobody has noticed Jason Fife is a very poor man's Joey Harrington, but it won't matter this week.
Oregon 38, UCLA 3
No. 3 Oklahoma at No. 2 Texas
The game of the week comes down to one thing: coaching. Texas has Mack Brown, who is the second most overrated coach in the land. (See Neuheisel, Rick.) Florida hasn't been the same since Bob Stoops left to lead Sooner Nation back to the Promised Land. It doesn't matter that Nate Hybl couldn't hit the Rec Center with a bundle from 15 feet.
Oklahoma 24, Texas 21
---
Arizona at No. 18 Washington
If anyone actually thinks that UA has a good football team after last weekend, they are sadly mistaken. The Pac-10 is a weaker conference than usual this season and playing tough for one quarter against Oregon means nothing. Besides Bobby Wade, no other Wildcats have seemed to step up offensively. Look for UA to stay at the bottom of the Pac-10.
Washington 35, UA 17
No. 12 Florida State at No. 1 Miami
There is definitely going to be a hurricane brewing at the Beach in Miami, and FSU better watch out. Look for Miami to continue to destroy top 10 opponents with a convincing four- touchdown victory. Chris Rix will be lucky to come out alive after the game. Look for South Beach to be rocking come Saturday night.
Miami 42, Florida State 14
No. 7 Oregon at No. 25 UCLA
The key to this game is TE Blane Kezirian and his crazy dad, the towel waver on the sideline. Big Ed really knows how to get his team motivated and if Blane can find his way into the end zone for his first touchdown, look for UCLA to come out on top. However, everyone that knows UCLA football knows that isn't going to happen.
Oregon 28, UCLA 24
No. 3 Oklahoma at No. 2 Texas
Two of the nation's top schools collide this weekend, but to be honest I have no respect for either team. I have no respect for anyone except Miami and V-Tech. The Big East will turn out to be the Conference of Champions this year and Oklahoma and Texas will be watching the Fiesta Bowl from home.
Oklahoma 10, Texas 3
---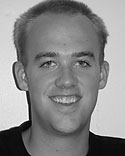 David Stevenson
Staff Writer
Arizona at No. 18 Washington
Arizona actually played well last week against Oregon ÷ for the first quarter, that is. The Wildcat rushing game has been nonexistent and the Clarence Farmer injury doesn't help. Head coach John Mackovic should use this game as a recruiting trip in conjunction with Husky head coach Rick Neuheisel's suspension.
Washington 38, UA 7
No. 12 Florida State at No. 1 Miami
With Nebraska not in the polls and Florida falling, it's been a great year so far. The Seminoles will get blown out and everyone will wake up Monday morning with an AP poll without FSU. Miami will run up the score at the Orange Bowl to sweep both Florida schools.
Miami 52, Florida State 14
No. 7 Oregon at No. 25 UCLA
The Ducks haven't skipped a beat all year. They ran the table in their first four games against non-conference opponents. Then they enjoyed two straight off-weeks, with one of them being the game with UA. Expect the Ducks to keep on rolling against them Boys from Westwood.
Oregon 28, UCLA 24
No. 3 Oklahoma at No. 2 Texas
The two will meet in Dallas at the Cotton Bowl in the middle of the State Fair after OU travels down 75 and UT up 35. Friday night in downtown, fans party in the streets, attend impromptu pep rallies and bungee jump off a crane. Hopefully Texas QB Chris Simms can beat OU for the first time in his career.
Texas 13, Oklahoma 10