Wildcat women keeping ╬secret'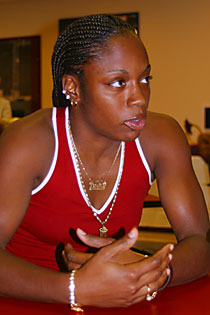 Emily Reid/Arizona Daily Wildcat

Sophomore guard Dee-Dee Wheeler smiles as she talks about the big "secret" surrounding the upcoming season. Wheeler was named the Pac-10 freshman of the year last season.

By Jeff Lund
Arizona Daily Wildcat
Thursday October 10, 2002


UA players exhibit quiet confidence on media day

It was hard for the UA women's basketball team to stop from smiling when asked about the outlook for the upcoming season at media day yesterday.

"It's a secret," sophomore guard Dee-Dee Wheeler said.

But it's a secret that the team does not wish to keep from the rest of the nation when the season tips off in November.

Under the cover of last year's disappointing 14-14 season, Arizona has retooled with an impressive freshmen class, redshirt players and a solid core of upperclassmen.

It is the freshmen class and inexperience that has teams looking past the Wildcats this year, something that head coach Joan Bonvicini wouldn't advise doing.

"We have renewed vigor," Bonvicini said. "We really feel we have something to prove. We have a full roster with a lot of depth, and have a good core of returning players, but we have a lot of new faces. Some of them will push for starting spots."

But with the season still weeks away, and the team yet to have an official practice, the Wildcats must take things a step at a time.

Which could be why the players are so anxious for tomorrow night's Midnight Madness.

"They are excited," Bonvicini said. "The atmosphere with a lot of people and to do it with the men is exciting. Lute has had some good teams while he has been here but I don't think they have ever been No. 1 in everything."

As the UA men try to live up to their expectations, Bonvicini's secret assassins will try and keep some of the top women's teams from fulfilling theirs ÷÷ and will get plenty of chances.

The Wildcats open with Louisiana State at home ¸ a team that is ranked in the top 10, and has been picked by some to make it to the Final Four ¸ and travel to Pepperdine and then back home against another national contender in Georgia.

Not an easy task, especially for a team that is unproven.

"I think we are going to do well," senior forward Krista Warren said. "Our preseason is going to determine how well we will do."

Fellow senior Julie Brase echoed Warren's sentiments.

"I think we have a lot of potential and will go far," Brase said. "We have a lot more confidence because we have a lot of great players."

Tomorrow's Midnight Madness will officially kick off the basketball season, allowing both men's and women's team to start practice.

Until then, Wheeler's "secret" will remain just that.