Time to topple the ╬School of the Assassins'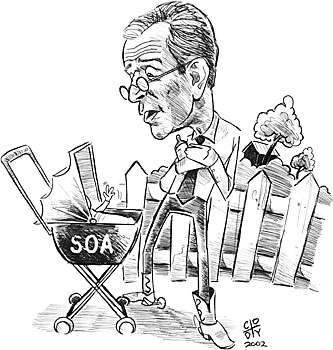 Illustration by Cody Angell

By Jessica Lee
Arizona Daily Wildcat
Thursday October 10, 2002


The war on terrorism will not end until it is terminated on U.S. soil. I am not talking about eco-terrorists or ultra-rightest Christian militias. Rather, the taxpayer-funded "School of the Americas" needs to be shut down immediately.

The School of the Americas, nicknamed School of Coups, School of Dictators and School of the Assassins, is located at Fort Benning, Georgia. Founded in 1946 as the U.S. Army Caribbean Training Center in Panama, the military training academy was molded to provide professional warfare training for Latin American and Caribbean militaries in order to make them effective in intervening in Latin American conflicts.

Under President Kennedy's Alliance for Progress, the training center was renamed School of the Americas and took on a Cold War focus. In order to comply with the terms of the Panama Canal Treaties, the academy was relocated to Georgia in 1984. It continued to specialize training in Spanish for Latin Americans in sophisticated war-making techniques such as combat, infantry tactics, military intelligence, commando operations, counter-narcotics and counter-insurgency against their own people. The program receives tens of millions of dollars from taxpayer pockets a year.

SOA graduates claim responsibility for some of the worst human rights abuses in Latin America in the last half-century. According to SOA Watch, a grassroots organization that pushes for the school's closure, many of the 60,000 SOA graduates have became some of the most notorious dictators in South and Central America. Some of these include Manuel Noriega and Omar Torrijos of Panama; Leopoldo Galtieri and Roberto Viola of Argentina; Juan Velasco Alvarado of Peru; Guillermo Rodriguez of Ecuador; Roberto D'Aubuisson, former death squad leader of El Salvador; and Hugo Banzer Suarez of Bolivia.

Lower-level graduates participate in frequent human rights mistreatments including rape, kidnappings, disappearances, murder and torture. In 1996, by federal court order, the Pentagon was required to release SOA's training manuals that advocated the military methods of torture, extortion and execution. Some of the most infamous actions include the El Mozote Massacre of over 900 civilians, the orchestrated assassination of Archbishop Oscar Romero, the murder of Guatemalan anthropologist Myrna Mack by Guatemalan officers ¸ all with U.S. backing.

Sept. 11 marked the 29th anniversary of the military coup led by Gen. Augusto Pinochet in Chile. Thousands of SOA militants serve in Colombia alone battling the "War on Drugs."

A fraction of each dollar Americans earn is dedicated to training militants to overthrow democracies and silence the opposition. The goal of operations is to protect U.S. invested interests by influencing and dominating political Latin American powers.

On July 13, 37 activists were sentenced to federal prison and heavy fines. Their crime: federal misdemeanor trespassing. In November 2001, these 37 people were part of a 10,000-person peaceful protest march at Fort Benning to support closure of the school. One protestor was Sr. Dorothy Hennessey, an 88 year-old Franciscan nun, who received a six-month sentence. "It is ironic that a time when the country is reflecting on how terrorism has impacted our lives, dedicated people who took direct action to stop terrorism throughout the Americas are on their way to prison," Hennessey announced in July.

Fear, blood, mutilated bodies. Torsos cut in half, faces mauled. Democracy defeated. Life extinguished.

By a narrow margin, the U.S. House of Representatives defeated a bipartisan amendment to close the School of the Americas and authorize a congressional investigation. On Jan. 17, 2001, included in the Defense Authorization Bill for Fiscal 2001 was a name change for the School of the Americas. The terrorist school now would be titled the Western Hemisphere Institute for Security Cooperation (WHISC).

Many viewed the renaming of SOA as an obvious attempt to diffuse public criticism and to dissociate the school from its reputation. In a media interview, Georgia Senator Paul Coverdell, an SOA supporter, distinguished the Department of Defense's name change as "cosmetic," speculating that the SOA would stick to its mission and current operations. SOA Watch agrees, saying, "It is a new name, but the same shame."

If President Bush is serious about ridding the world of terrorism, he needs to look internally. But, as a spineless leader whose stature is dedicated to the perpetual support of American corporations, it is unlikely that the militant school will shut its doors under his administration.

Unless American citizens speak up against these U.S.-backed human rights violations, more innocent Latin Americans will succumb life into the hands of special interests.