New horizons of learning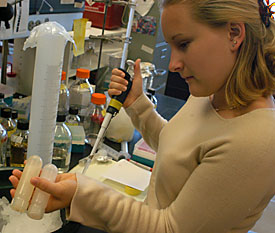 KEVIN KLAUS/Arizona Daily Wildcat

Molecular and cellular biology senior Julie Bordowitz works in a biology lab in the Life Sciences building. Bordowitz spent last summer in Germany studying heat-shocked proteins as part of a study abroad program.

By Keren G. Raz
Arizona Daily Wildcat
Thursday October 24, 2002


Whether it's naming genes or having tea with prime ministers, overseas program is memorable experience for students and a research advantage for the university

Not many students get the chance to name a gene. But at the end of her research experience in Paris, Nanibaa' Garrison, a molecular and cellular biology senior, was given that very opportunity.

Garrison, whose mother is Navajo, chose to unite her Navajo heritage with the French culture, naming the gene Bil Nahoomas.

While not everyone has been able to name a gene, over 100 other UA students have had the opportunity to travel overseas to do research in foreign labs through a program known as "Biomedical Research Abroad: Vistas Open," or BRAVO.

The program is run through the undergraduate biology research program as a way of promoting international understanding and advancing students' research skills, said the program director Carol Bender.

"BRAVO gives students a much greater appreciation for what it means to do science," she said. "While scientific method is the same world round, the conditions under which one does science vary considerably from one country to another."

Samira Ehteshami, also a molecular and cellular biology senior, traveled to Perth, Australia, over the summer to perform research at the Institute for Children's Health.

"I looked at (umbilical) cord blood and compared different cells within the cord blood to those in adult blood," she said.
KEVIN KLAUS/Arizona Daily Wildcat
Molecular and cellular biology senior Samira Ehteshami works on a research project yesterday afternoon in the Biomedical Research Laboratory building. Ehteshami, who traveled to Perth, Australia, is one of over 100 students who have had the opportunity to travel overseas to study as part of the "BRAVO!" program.
When Ehteshami returned to the UA, she not only brought back three months worth of knowledge, she also brought back new techniques that have enhanced the pediatrics research program here at UA, said her advisor, Mark Brown, associate professor of clinical pediatrics.
"She knows how to isolate these bendritic cells (cells in nerve tissue), and as far as I know, nobody at the university does it," he said.
Although scientific research is a key part of BRAVO, Ehteshami singles out cultural experiences as being the most memorable part of her trip.
Not only did she learn how to speak Australian slang, saying "mozies" for mosquitoes and "mackers" for McDonalds, but she also got to enjoy traditional morning tea with the prime minister of Australia.
Julie Bordowitz, who traveled to Germany to experiment with heat-shocked proteins, vividly remembers her culture shock.
As the youngest person in the lab, she had to get used to a more professional, yet laidback atmosphere.
During the World Cup, "we were in the lab when the game went on at 1:30, 2 in the afternoon. People would go downstairs, grab a beer and watch the game. And I would wonder, how can you do that? It's the middle of the afternoon. I'm still working," she said.
What struck Garrison about her experience abroad was hearing science research discussed in French rather than English.
"It was the third day of work, and they had a lab meeting entirely in French," she said. "It was the coolest thing to see how science is communicated in a different way."
BRAVO not only provides invaluable experience to undergraduates, but it also brings a lot of prestige to the UA, Bender said.
"As an institution, having a program like this makes us stand out among our peers," she said. "It is a great example of how a research university such as our own can bring its unique resources to bear on undergraduate education."