Athletics boss concerned by low grad rates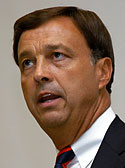 Jim Livengood
Athletic Director

By Ryan Johnson
Arizona Daily Wildcat
Thursday October 24, 2002


Athletic director Jim Livengood addressed athletes' lower-than-average graduation rates, the high demand for basketball tickets and emphasized the self-sufficiency of the athletic department during the faculty fellows speaker series yesterday.

UA swimmer Jeff Dash introduced Livengood and mentioned his accomplishments as athletic director.

"He's had great success. We've been in the top 10 in the Sears Cup (a ranking of the top athletic departments in the country) the last 10 years and he was named 1999 A.D. of the year," Dash said.

But while Livengood's athletes have had success on the field, he said he is concerned with athletes' academic performance.

While 54 percent of the student body graduates eventually, 45 percent of student athletes graduate on average. The graduation rate dips down in football and plummets with basketball. Athletes are the victims of traditional stereotypes, Livengood said.

"The general impression is that they don't do very well (in class). Most of their attention is diverted to sports," said business economics senior Pooja Kedia.

But that might change soon.

New NCAA rules will hold athletes more accountable. This week, the NCAA created new guidelines governing the rate at which athletes have to finish their graduation requirements. Improving graduation rates is one of Livengood's main goals during his tenure at the UA, he said. But throughout his speech, Livengood said he

doesn't know how much longer he'll be at the university.

"I love U of A and it has been good to myself and my family, but at the same time you have to look at new challenges," he said. "These are the kinds of jobs you can fall in and out of favor really quickly."

When he asked attendees for questions, students asked about basketball tickets and the possibility of expanding McKale Center to accommodate more students.

Other universities facing similar ticket shortages have spent huge amounts to add a few thousand seats only to find that the arena didn't fill up any more, Livengood said.

It is difficult to please all sides ¸ alumni, students, and the general public ¸ in regard to ticket availability, he added.

Livengood suggested that juniors or seniors who had never attended a game come to his office for tickets, but was cautious in an interview afterward.

"I've had students that come to me. We'll figure out some way they can see a game, but we can't take care of everybody," he said.

He also tried to set the record straight about misconceptions in athletics funding.

Students who think big chunks of their tuition money and the state budget go toward the 500 athletes and 165 staff members who make up and support the 19 sports are mistaken, Livengood said.

"I think a lot of (athletic department funding) comes from the state," said studio arts senior Joseph Abeita.

In fact, Livengood said, 4 percent to 5 percent of the athletic department's $32 million budget comes from government sources, and none comes from the university itself.

The athletic department supports itself through gate receipts, television receipts and merchandising.

Although the athletic department doesn't necessarily make a profit for the university, it occasionally contributes financially.

For example, the department has contributed money to debt financing for the Student Union, including $500,000 this year.

Basketball and football do turn a profit, he said, but because the department treats all sports equally, the net profit is negative.