State bumps up legal gambling age from 18 to 21 for casinos, lottery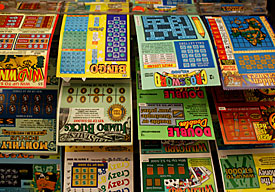 KEVIN KLAUS/Arizona Daily Wildcat

Arizona state legislature passed legislation last year to raise the minimum age for gambling, including the state lottery and Indian casinos, from 18 to 21.

By Brittany Manson
Arizona Daily Wildcat
Thursday October 24, 2002


The Arizona Legislature has a message for younger students who enjoy heading down to the casino to drop their paychecks into the slots: Enjoy it while it lasts.

Starting June 1, the minimum age to gamble in casinos, bet at racetracks or buy state lottery tickets will increase from 18 to 21 because of legislation passed earlier this year.

The reason the legislature passed the law was because young adults were "exposed to gambling at too early an age," said Arizona Lottery Executive Director Geoffrey E. Gonsher.

The typical lottery player is college-educated, 47 years old and most likely male, according to research from WestGroup Research, a group hired by the Arizona Lottery Commission.

The lottery "has not pursued the age group (under 21)" with advertising campaigns, Gonsher said.

Revenue loss from the college-aged crowd will be minimal and the number of lottery ticket buyers among the affected group is "virtually insignificant," Gonsher said.

Undecided freshman Amy Manzo said the lottery is entertainment.

"It's stupid to not be able to buy tickets," she said.

Another freshman was less upset by the new law.

"By 18 you understand (the risk of gambling) and we don't have that much money to lose anyway, so it's not a danger," said undecided freshman Russell Means.

Proposition 301 in the November general election may also affect the state lottery.

If the proposition passes, the lottery will be around until 2012. But the lottery will be eliminated altogether if voters defeat the proposition.

Proponents of the law say the lottery is an important source of revenue for programs such as environmental and historic preservation.

Opponents of the proposition say it is state-sponsored gambling.

Revenue from the lottery goes into education, local transportation, highway and road construction, and parks and recreation. The lottery completed its best five-year period in its 20-year history with fiscal year 2002, which ended at the end of June, according to a memo from Gonsher.

The lottery's total revenue for the past five fiscal years was $1.3 billion, a 3 percent increase over the last five-year period.

State lottery revenues exceeded $250 million in total sales for 2002.