On the Spot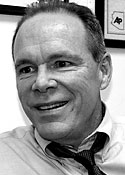 Richard Mahoney
Independent candidate for governor

By Rebekah Jampole
Arizona Daily Wildcat
Thursday October 24, 2002


Independent gubernatorial candidate likens politics to sitting on pencils, owns no TV

Wildcat: Have you ever sat on a pencil?

Mahoney: I've never sat on a pencil. I've sat on a lot of things but never a pencil.

Wildcat: What was the pokiest thing you sat on?

Mahoney: Given my native discretion, I'm not going to get in to that. I'll just leave it to your imagination. It was pretty gnarly.

Wildcat: One time I sat on a pencil and the lead was stuck there for a couple of years. My little brother actually planted it there.

Mahoney: Good for him.

Wildcat: Are you fearful of sitting on a pencil?

Mahoney: Politics is like a bed of nails, or sitting on a pencil.

Wildcat: So you liken being a politic to sitting on a pencil?

Mahoney: Yes, it's a good analogy. Particularly when you have a budget deficit of $1 billion.

Wildcat: Yeah, I'm not seeing it. Outside of politics, what is your biggest fear?

Mahoney: Pencils that go into places where they should not.

Wildcat: Really? Mine too.

Mahoney: It's amazing, I didn't anticipate this, but I appreciate the opportunity.

Wildcat: Well, we do what we can.

Mahoney: What's my biggest fear? My biggest fear is being bored.

Wildcat: What do you do when you are bored? Are you a thumb-twiddler?

Mahoney: No. I listen to salsa music, read.

Wildcat: That's all terribly interesting. Do you ever watch reruns of "The Brady Bunch" when you are bored?

Mahoney: Well, I don't own a television. So, I only know about television second hand.

Wildcat: From what you've heard about "The Brady Bunch" characters, who are you most similar to?

Mahoney: I really don't know.

Wildcat: Let me tell you about them. Well, Greg Brady was a big stud back then, not so much now though. Do you consider yourself a big stud?

Mahoney: Unfortunately not. Am I supposed to be honest?