Shattering Glass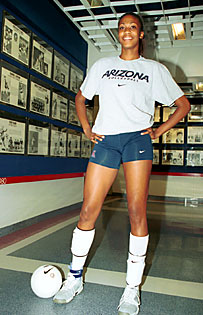 JILL MARICICH/Arizona Daily Wildcat

Freshman Kim Glass is on pace to shatter the UA record for kills in a season by a freshman and challenge the career mark set by former star Barb Bell.

By Brian Penso
Arizona Daily Wildcat
Thursday October 24, 2002


Kim Glass had a heated look on her face. She couldn't believe what was happening to her team. She was playing in front of the audience she had always dreamed of, and many of them began to lose hope in their team when it went down two games to zero.

But Glass didn't. She couldn't ÷ her team needed her.

She wasn't used to losing because she didn't have to experience it much back in high school in Pennsylvania. Plus, she did not want to lose in the biggest game of her college career against the best player in her sport ÷ Stanford's Logan Tom. She knew she could do better, but if she didn't do it now it would be to late.

First, she took a deep breath.

Next came the kill down the baseline, then came the one smacked in front of Tom ÷ one after another, after another. It started to become easy for Glass.

She would not let her team lose, and after her 28-kill night, she didn't. She led the Wildcats to one of their biggest upset victories of all time in five games over the No. 4 team in the country in front of a record-setting crowd.

She played like she had done this before, but Glass is only a freshman and has become one of the nation's best.
---
Inside the numbers...
First 17 Matches
| | | | | |
| --- | --- | --- | --- | --- |
| Player | Kills | Swings | Errors | Hitting Percentage |
| Barb Bell | 261 | 628 | 100 | .256 |
| Kim Glass | 305 | 679 | 85 | .311 |
---
The native of Pennsylvania, out of Conestoga Valley High School, was regarded as the No. 2 high school volleyball recruit and could play wherever she desired. Ultimately, she narrowed her choices down to UCLA and Arizona.
Glass said that choosing to become a Wildcat instead of a Bruin has been one of the best decisions that she has made in her young life.
"I love it out here," Glass said. " The people are great and I couldn't be happier. I tell everyone that I talked to that I could not be happier with my decision to come here and play volleyball. I would not be happier anywhere else."
Even as a freshman, Glass has already drawn comparisons to former Wildcat great Barb Bell.
When head coach David Rubio took the reins of the Arizona women's volleyball team in 1992, the Wildcats were at the bottom of the Pacific 10 Conference.
Then came Bell.
As a player, Bell elevated Arizona volleyball, which Rubio said opened up the door for Arizona to recruit the nation's top volleyball prospects.
Last year, Rubio inked Glass, and the volleyball world wondered if Rubio had found yet another stellar freshman to lead the way for the Wildcats.
"Barb made it possible for us to recruit players like Kim and Dana (Burkholder) and the rest of our players," Rubio said. "Kim is a great athlete and she has all of the talent in the world. She still has a long way to go before reaching her potential. The sky is the limit for her."
No growing pains in year one
For most incoming freshmen, the first year is used as an opportunity to adapt to the change from high school to Division I athletics, but that is not the case with Glass and Arizona's other stellar freshmen, including Bre Ladd and Jennifer Abernathy.
Rubio knew that each of these players was talented, but what Glass has brought to the court has been nothing short of remarkable.
During the month of October, Glass has been nearly unstoppable.
In UA's six matches this month, Glass has recorded at least 20 kills in five of them, including a career-high 30 kills against Washington State.
Glass has recorded a double-digit mark in kills in 16 of her first 17 matches, which has already propelled her to second on the all-time list for freshman kills with 305.
Glass trails Bell's freshman record of 417 kills, but with 11 matches remaining on Arizona's schedule, Glass is on pace to shatter the record.
"I didn't think I was going to have the success that I have had," Glass said. "I just wanted to come in and play my game. I was nervous at first, but now I just go out and just try to play my game."
The comparisons to Bell, UA's career leader in kills (1,859), 10-kill matches (101), 20-kill matches (30), and kills per game (4.41), are beginning to take form.
Bell is the only Wildcat to be named an All-American in her freshman campaign and Glass has had better statistics during the first two months of the season than Bell.
Glass's numbers tell only part of the story.
The 6-foot-2 free-swinger has already been named Pac-10 Player of the Week twice this season.
"I want to win a national championship," Glass said. "I don't want to make any excuses and I try to go out there every day in practice and reach that goal. The team is trying to work hard every day to win a championship and I play as hard as I can in order for us to have a chance to reach that goal."
Learning from the experienced
Glass's level of maturity and dedication to the success of the Arizona program during her first season has been above the level of expectation of an incoming freshman.
To handle that pressure, she looked to senior Shannon Torregrosa for guidance.
"Shannon is always there for me," Glass said. "When I am down or lacking confidence she gives me advice. She adds to my confidence and she gives me a big boost when I am on the court."
Torregrosa has taken Glass under her wing and she said that it is important for the seniors on the Wildcats to step up and guide the young players.
"I know what it takes to make it to the Final Four," Torregrosa said. "Kim is a great player, but she still needs to adjust to playing at this level. It is a different game than in high school and I'm trying to help her adjust to playing at the next level."
Even though Glass doesn't consider herself a leader yet, her play on the court has led the Wildcats all season.