Soccer breaking old team records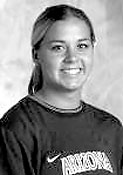 Kelly Nelson
redshirt freshman

By Ross Hammonds
Arizona Daily Wildcat
Thursday October 24, 2002


The Arizona soccer team is rewriting its own record book this season, as UA has already established or met nine school records this season. At 5-7-1 overall, the team is on pace to finish with a school-best win total. Include a record of 87 points on 30 goals and 27 assists, and it has beaten the school record set by the 1999 team of 80 points.

"We're excited about the good things that are happening to this team," head coach Cathy Klein said. "There's so many ways to measure success and these are steps towards our goal."

The 30 goals the Wildcats have netted tie the school record also set by the 1999 team and matched by last year's team. It is also good enough to place them third in the Pacific 10 Conference. The 27 assists put Arizona fourth in the conference.

"We have players committed to year-round development," Klein said. "UCLA was the best opponent we played all year and we have the most highlights against them."
---
Redshirt freshman Kelly Nelson's 10 goals put her one goal away from tying the school record for goals in a season set in 1995 by Christine Keeley and matched by Chrissy Sanford in 1999.
Nelson has already set the school record for goals in a single game with five against Belmont on Sept. 28 in Nashville, Tenn.
"It's really exciting and I'm kind of anticipating it this weekend," Nelson said.
Nelson leads the Pac-10 in goals and goals per game. Also, with 21 points on the season and 1.62 points per game, she is second in those categories.
---
The Wildcats have two freshmen on pace for a new assists record in Erin Clewett and Lisa Kosena, who each have four on the season and need two more to tie the record set by Sara Field in 1996 and tied by Nikki Jones in 1998.
"That's what my job is," Clewett said. "It feels great to help."
"It's exciting to get credit for something like that," Kosena said. "May the best girl win."
---
As a team, UA has broken the old margin of victory record of four set in 1996, when they downed Gonzaga 4-0.
This year the record was set, then set again, when UA beat Northern Iowa 5-0 and then doubled that when they dismantled Belmont 10-0 and pounded Youngstown State 7-0 on Oct. 10.
"There are so many stats that measure success ÷ wins to losses, goal differential ÷ improving all of them works towards success," Klein said.
---
Freshmen goalkeepers Amanda Martin and Natalie Juarez have combined to lead the Pac-10 in saves with 94 and are tied for fourth with five shutouts, two of which are Martin's alone. That is the most shutouts since the 1997 season for the Wildcats.