Men's tennis to wrap up fall season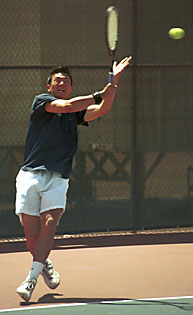 EMILY REID/Arizona Daily Wildcat

Junior Whi Kim will look to improve on his disappointing start to the season in UA's final fall tourney Saturday in Los Angeles.

By Brian Penso
Arizona Daily Wildcat
Thursday October 24, 2002


After a ninth-place finish in the Pacific 10 Conference and losing the team's top player in Steven Capriati, the Arizona men's tennis team's future looked dim for the 2002-2003 season.

However, that hasn't been the case.

During the fall individual season, the Wildcats have looked like a different team, with many players rising to new levels.

Those new levels will be challenged this weekend as Arizona concludes its fall season at the Omni Hotel Southern California Region VIII Fall Championship in Los Angeles.

This marks the second national tournament that the Wildcats will participate in during the fall season.

The tournament field consists of UCLA, Southern California, Arizona State, Santa Barbara, Loyola Marymount, Pepperdine and San Diego.

Both UCLA and USC were ranked in the top five last season.

"Our goal is to win some matches," freshman Daniel Andrus said. "We are going to be playing some tough teams this weekend. As a team, we know we can be competitive this year and this will be a good test for us."

The Wildcats are led by junior Whi Kim, who has struggled this fall with a 3-6 record, but sophomore Paul Warkentin said Kim is an ideal No. 1 player for the Wildcats.

"He is one of the best players I have seen play," Warkentin said. "He is going to be a great No. 1 for us this year."

Kim may be struggling early, but he is still making the transition from being last year's No. 3 to the current top player at UA.

The pleasant surprise for the Wildcats for the fall season has been the play of Andrus, who is 6-1.

"I'm just playing," Andrus said. "Everyone is just trying to play as many matches before the team season begins."

Besides Andrus, junior Carl Hagman has had a dominating fall with a 7-3 record along with a singles title at the NAU Invitational.

This tournament will be the biggest test for the Wildcats this fall, but it will be used as a steppingstone into the spring season.

With a strong showing this weekend, Arizona will make a statement to the rest of the Pac-10 that they are much improved from a year ago, when UA finished near the bottom of the conference.

"We think that this year is going to be different," Warkentin said. "We have had a good fall season and we want to continue that this weekend. There are going to be a lot of good teams and we need to go out and try to win some matches."

On the women's side, last season was filled with many high and lows.

The Wildcats finished fifth in the Pac- 10, but players and coaches realized that they had missed an opportunity to finish higher.

With that thought in mind during the offseason, Arizona has entered the fall individual season motivated to show the country and the Pac-10 that they will be a team to be reckoned with during the spring season.

The Wildcats will have a chance to do just that this weekend in San Diego at the Omni Hotels Regional Tournament.

Arizona hopes that this weekend will be more successful than the team's first tournament, which saw its top two single players, sophomore Maja Mlakar and junior Debbie Larocque, fall in the first round of the Riviera All-American tournament.

The two also teamed up for doubles, but lost in the first round as well.

No Wildcat was able to advance past the first round during the team's first fall invitational.

Inconsistent play from top to bottom was something that plagued Arizona last season.

This weekend marks a chance for Arizona to show UC Irvine, ASU, San Diego St., UC Santa Barbara, and Pepperdine that it can overcome its poor performance at the Riviera All-American and play with some of the best teams in the country.