CatFight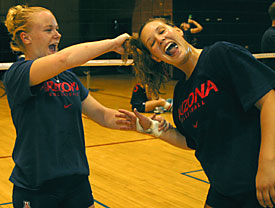 DAVID HARDEN/Arizona Daily Wildcat

Senior Rachel Williams (left) and sophomore Kelli Mulvany both played key roles in their defensive specialist/libero positions up front for the Wildcats in their sweep against Arizona State. The win marked the fifth victory in six matches and moved UA up to third place in the Pac-10.

By Brian Penso
Arizona Daily Wildcat
Tuesday October 29, 2002


Defensive specialists/liberos Williams and Mulvany act as catalysts for UA offense by setting up the setter, yet the duo doesn't share in hitters' limelight

For every Michael Jordan, there is a Steve Kerr. For every Shaquille O'Neal, there is a Robert Horry. For every Troy Glaus, there is a David Eckstein.

The same can be said for the UA volleyball team, where for every Kim Glass or Lisa Rutledge, there is a Rachel Williams or Kelli Mulvany.

Williams and Mulvany, both defensive specialists/liberos, have been key components in Arizona's recent success that has seen the Wildcats win five out of their last six matches to move into a tie for third in the Pacific 10 Conference.

Defensive specialists/liberos are the last line of defense against an opponent's attack, and the plays that Williams and Mulvany make save points and allow other players an opportunity for assists and kills.

Williams, a native of Orange, Calif., and Mulvany, who is from Upland, Calif., are often catalysts for the Arizona offensive attack.

The defensive specialist/libero usually provides the first pass to senior setter Laurie Gardner.

If the pass is accurate, Gardner has an opportunity to be creative and open up the Arizona offense.

If the point is a success, an attacker gets a kill and Gardner gets an assist on the stat sheet, but all Williams and Mulvany get are praises from within the team.

"Everyone can't kill the ball," Williams said. "Our job is to control the ball and set up the offense. We know that if we don't control the ball that we aren't going to be successful."

Defensive specialist/liberos probably receive the least amount of credit for the success of the team, but that doesn't bother either of these two players.

"Every player plays a vital role for us," head coach David Rubio said. "Some roles are more obvious than others, but Kelli and Rachel are our unsung heroes. In football, the offensive line doesn't get any credit, but they have to play well for the offense to score. That is the same thing for us with Kelli and Rachel."

Besides being unselfish in regard to receiving the accolades that Glass or Rutledge receive, both have shown unselfishness when it comes to playing time on the court.

Coming into the season, Williams, a senior, was slated as the team's starting defensive specialist/libero.

However, Mulvany, a sophomore, has moved up the depth chart and overtaken Williams in the starting lineup.

"Rachel has been really good about everything," Rubio said. "Many players could have been upset about not starting, but she cares about what is best for the team. I know that when I have either one of them out there, I can depend on them."

Williams, one of three seniors for the Wildcats, said that the competition for the starting position brought she and Mulvany closer together and that it is great that they are able to learn from one another.

"When she is on the court, I watch her and learn from her," Williams said. "It's nice to be able to sit back and see the way someone else plays the same position."

Williams is not the only one that has benefited from the stiff competition for the Wildcats' starting libero/defensive specialist position.

"Rachel is older," Mulvany said. "She has so much more experience than I do. I have learned a lot from her, and it has helped me so much.

Besides being a defensive presence for the Wildcats, Mulvany and Williams agree that they have to bring a lot of energy to the court to start rallies and spark their fellow teammates.

"We bring 110 percent every time we step on the court," Mulvany said. "We try to bring a lot of energy to the court to pump everyone up."

Mulvany's and Williams' contributions may not show up in the stat sheet at the end of a match, but if the Wildcats want to bring home the school's first-ever volleyball national championship, they realize that these two defensive specialist/liberos will play a big role in turning the team's preseason goal into a reality.