How to fix the ticket glitch

Arizona Daily Wildcat
Tuesday October 29, 2002


Disgusted by the recent ticket debacle, a few Wildcat staff members put their heads together and came up with a few ideas that could be useful in avoiding problems in the future

UAPD should supervise

After two years, the UAPD and the McKale ticket office still haven't figured out a way to safely distribute basketball tickets to Arizona students.

I showed up yesterday morning at 4:45 a.m. and there were no police officers or ticket office supervisers anywhere. Chaos!

To me, it seems ridiculous that a school that is known for its basketball program has been unable to come up with a formula to distribute tickets fairly and safely to its students. Other schools don't have this problem, so why should UA?

Here's the way to solve it ÷ the McKale ticket office should set up aisles in front of its ticket office like they have at movie theaters or amusement parks.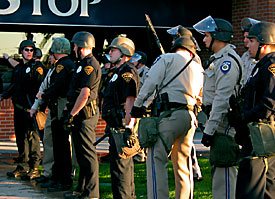 Chris Coduto/Special to the Arizona Daily Wildcat
Tucson Police Department officers in riot gear look on as students gather outside of McKale Center in droves yesterday morning. Thousands turned out for the opportunity to get vouchers to allow them to buy season tickets.
This will allow students to arrive and begin forming somewhat orderly lines as early as they want.
At a certain predetermined time, the ticket office should open up the McKale Center doors and have their employees direct students to a certain area of the arena to sit in.
They should probably let in around 100 students at a time.
Once the students are seated, another employee should come around and hand out a ticket that designates a certain time that they can return and purchase tickets.
One may think that it would take time to have to escort in and out over 4,000 people.
I'm not going to lie, it will take a while ÷ but this will cause less commotion in the street, which will please UAPD. Organization is essential
---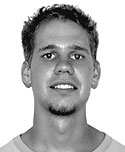 Jeff Lund
Asst. Sport Editor
Organization is essential
If 2,600 people are showing up for a basketball scrimmage, that should send a signal that there is somewhat of an interest in the team, and more precautions should have been taken to avoid the ridiculous scene yesterday morning.
Whose fault was the chaos at McKale Center? Everybody's.
While spooning with 4,000 fellow students was fun and all öö or not öö I think there needed to be some better planning. As much as I was uncomfortably stuck to the other ticket-hungry fans, I was in better shape than the poor, cute little girl that not only wasn't tall enough to get fresh air, but was being drenched in sweat dripping from the tall dude standing in front of her.
Here's my plan: have different locations that the students can go to get the vouchers. Hand tickets out at the ticket office, Bear Down Field and inside McKale itself. Less people in one place means less opportunity for people to nearly be stripped naked while crowd surfing from the front of the "line."
Have students line up whenever they want and have police there the whole time at the front of the lines, keeping things in order.
Tickets go on sale once a year ÷ everyone can give a little something to make it right.
---
Charles Renning
Staff Writer
Location, location, location
The only real problem with the way the athletic department chose to sell the basketball tickets yesterday was the location.
The area outside of McKale Center is the worst place imaginable to try and sell anything to a large audience. There is no room to form lines and people have no choice but to gather in a cluster. The battle for basketball season tickets becomes survival of the fittest instead of first-come, first-served.
The only logical solution is to move the location where they sell the tickets.
Next year, they need to use one of the giant tents that are always on the Mall and set it up on the east side of Old Main. From there, the school can make people stand in straight lines from Old Main all the way to Campbell.
The UA student population also has to take on a bit of the responsibility.
Don't be stupid. Students that are 18 years old or older should be able to be civilized and stay in a line. If not, they can always just go back to the lottery.
---
Thinking ahead
So this is what a preseason No. 1 ranking brings this school.
For anyone who was here two years ago, it's the same kind of logic that allowed cars to be flipped, bars to be set aflame and people to get hurt before police action was taken after the National Championship loss to Duke.
Was it really that hard for the police to be one step ahead of the game?
Honestly, what's the worst that could have happened if security had beefed up for the night in front of McKale? They wouldn't have been able to call in the helicopter to flash a light on seven guys with a keg and a PS2. I'm sure Tucson would have survived.
It baffles me how the TPD will break out city grids and strategically send out four units and another team on foot to break up a kegger, but yesterday's fiasco was too subtle to have ever been protected.
The students who arrived early Monday morning and caused a peaceful assembly of fans to turn into a riot were definitely in the wrong. However, they were also definitely predictable. A police-supervised McKale Center never would have led to what happened yesterday.
The Arizona basketball team is favored to make it to the National Championship game that takes place in just over five months. That should give police enough time to figure out how to handle Fourth Ave. when they do. But if the police still aren't convinced that they need to be there in advance, I'll try this ÷ I heard someone might be smoking pot or having fun there that night.