Wildcats concentrate on running, stopping OSU run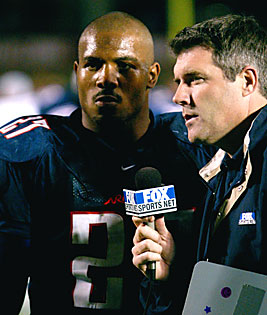 KEVIN KLAUS/Arizona Daily Wildcat

Senior linebacker Lance Briggs talks to the media following Saturday's 21-13 loss to Washington State. Briggs had one of his best games as a Wildcat.

By Charles Renning
Arizona Daily Wildcat
Tuesday October 29, 2002


After only having minus 17 yards rushing against Washington State, it is inevitable that the Wildcats will put an extra emphasis on the running game when they travel to Corvallis, Ore., to take on Oregon State on Saturday.

However, with Beaver running back Steven Jackson's 239-yard performance and a team total above 300 last week against California, the Wildcats might even focus more on the Oregon State rushing attack than their own.

"We expect that they will run a lot more," head coach John Mackovic said. "Our run defense will have to match that."

Last week, Arizona gave up 119 yards to WSU's Jermaine Green.

UA senior linebacker Lance Briggs said he is up for the challenge against the Beavers.

"I look forward to it," Briggs said. "I think our whole defense looks forward to the challenge."

There will also be more of an importance placed on the Wildcats' own running game. In their first four Pacific 10 Conference games, the Wildcats are averaging a meager 15 rushing yards per game.

A big reason for the lack of rushing production was the injury to junior tailback Clarence Farmer. Now, the rushing duties have been split between true freshman Beau Carr and redshirt freshman Mike Bell.

"The hardest thing for young backs is to know how the play operates," Mackovic said. "(It's hard) to allow their vision to capture what is happening."
---
Saturday's game between UA and OSU in Corvallis will not be televised live, making it the fourth game this season that won't be aired when it actually happens.
The game, which will be play at 1p.m. PST, will be on tape delay Sunday at 1:30 p.m. on Fox Sports Net Arizona.
---
If all of the injuries so far this season weren't proof enough of the hardships that the Wildcats have faced, the final play of UA's 21-13 loss to Washington State might give a little better clue.
The Wildcats battled the No. 9 team in the nation for four quarters Saturday and looked to escape with a loss and no more injuries. However, that just wouldn't correspond to the rest of the Wildcats' season.
On the final play of regulation, sophomore defensive lineman Vince Feula went down with a knee injury and he will be doubtful for the Oregon State game.
Some good news on the injury front could be the return of freshman defensive end Marcus Smith, sophomore defensive end Fata Avegalio, and freshman defensive tackle Brad Brittain.
Mackovic expects all of their injuries to improve as the week progresses.
---
With all of the newcomers that have had an impact this season, why should the kicking game be any different?
Junior kicker and Tucson native James Molina saw his first action in a Wildcat uniform and made the most of it.
Molina, who transferred from East Los Angeles Community College last spring, had one punt for 52 yards and kicked the kickoff seven yards deep into the end zone. That was before he had his first two punts cancelled because of penalties.
"I felt that we needed stronger performances from our kick specialists," said Mackovic. "We just felt it was time to do that."
Molina replaced freshman Danny Baugher in the punting duties and sophomore Ryan Slack on the kick off.
Mackovic said Molina will be under consideration for both of those duties this week.
---
Briggs was one of the main reasons for the strong performance by the Wildcat defense against Washington State. UA held one of the top offenses in the Pac-10 to only 21 points behind 14 tackles by Briggs.
Briggs added a fumble recovery, two tackles for a loss, a sack and two pass deflections.
"(My performance) really doesn't matter if we don't come out with a (win)," Briggs said. "Your own personal performance gets overshadowed by a loss."
Mackovic said he had a feeling Briggs would have a good game against the Cougars based on his ability to run hard in practice for the first time in a month with no pain.
"That's the best game I've seen him play in my two years here," Mackovic said. "He took that defense and pulled them right with him."