Portrait of success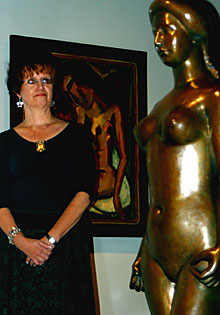 ALYSON GROVE/Arizona Daily Wildcat

Lee Karpiscak, the assistant director of the UA Museum of Art, admires the Flore Nue in the museum yesterday. Karpiscak, who has worked at the museum for 26 years, will retire on Nov. 1. The museum itself was built in 1955.

By Lisa Schumaier
Arizona Daily Wildcat
Tuesday October 29, 2002


Art museum's assistant director reflects on service to Tucson's art culture, prepares to say goodbye after 26 years

The story of the Museum of Art has become an epic at the university. Besides the temporary works of intriguing sculptures or giant painted canvases, the museum is not merely a pit stop for traveling exhibitions. Like a home that still displays your third grade artwork on the refrigerator, the museum is dedicated to preserving and exhibiting pieces of lasting value.

Though most of the pictures decorating these walls are replaced frequently, the story they portray is the same. Reminiscent of a family portrait, the pictures that have hung in the galleries over the years combine to tell a thousand words of growth and progression. One woman that has become a significant character in the museum's history is Lee Karpiscak, the assistant director of the museum.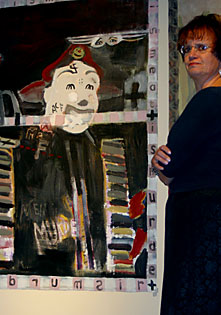 ALYSON GROVE/Arizona Daily Wildcat
Lee Karpiscak, assistant director of the UA Museum of Art, stands in front of a painting by Barbara Penn at the museum. Lana O'Car, a student employee at the museum, said that the staff at the museum "is like a big family." The museum employs 14 full-time staff members.
"She has contributed in every capacity for an extended amount of time, from chief curator to curator and director. I think she regards this as a home and as a depository of all the productive and creative work that she has done for most of her career," said Matthew Gross, a student employee.
Karpiscak has worked for the museum for 26 years, but the museum has been open for even longer.
"The first paintings that came to us were in the mid 1940s. It was a C. Leonard Pfieffer of American art in the '20s, '30s and '40s,"Karpiscak said. "Those were originally in the old Main Library before the museum was started. When this building was opened by the Kress Collection in 1955, they were moved here."
The museum has come a long way since its inception, and for Karpiscak, since she first started her job.
"It used to be that only one temporary exhibition was done a year, the first and second floors were permanent collection. Now we do between 15 and 20 contemporary exhibitions that are primarily on the first floor."
Numbers have changed dramatically and not only in terms of shows. The museum only had a staff of three people 26 years ago. The museum now employs a full time staff of 14.
---
If you go...
The UA Museum of Art features a collection of over 4,500 paintings, sculptures, prints and drawings dating from the sixth century to today. Check out their large (and growing) permanent collection, as well as its non-permanent exhibits. Some of the acquisitions the museum has received include:
· 1944 ÷The C. Leonard Pfeiffer Collection, which includes American paintings from the '20s - '40s.
· 1950s ÷ the Samuel H. Kress Collection, which includes 50 European paintings and 26 panels from the Retablo of the Cathedral of Ciudad Rodrigo created by Fernando Gallego and his assistants.
· 1980 - Jacques Lipchitz Sketches and Models collection, with 61 plaster and clay models by Lipchitz.
· 1980 - The Edward J. Gallagher Jr. Memorial Request. This endowment fund has let the museum acquire works from Wassily Kandinsky, Henri Matisse, Francisco Zuniga, Francisco Goya and Rembrandt van Rijn. Gallagher's collection donated works from artists such as Pablo Picasso, Auguste Rodin and Jackson Pollock.
Current exhibits are: "Looking Back: Contemporary Portraits," "At Risk: Depicting Danger, Hazards and Chance" and the School of Art faculty exhibition.
The museum is located near North Park Avenue and East Speedway Boulevard. The museum is open 9 a.m. - 5 p.m. weekdays and noon - 4 p.m. Sundays. Admission is free. Call 621-7567 for more information.
---
"It is like a big family here," said Lana O'Car, another student employee at the museum. But like any family, the museum has had its share of problems and challenges.
"Over the years, budget has certainly been a challenge. We have developed very creative ways of dealing with it in the past decade. Back in '92 and '93 we were going through a similar situation as now and had to come up with a number of different ways of doing things," Karpiscak said. "We decided that people are a lot more important than operations. We dropped general operations and kept our staff intact. It worked because we are all so very good at getting grant money."
The process of receiving grant money is ongoing. With a plethora of ideas to increase public programming, outreach, and education, the main problem that hinders innovations is money.
"We know we can't depend on the state for that, and haven't for a long time," Karpiscak said. "Everything is funded from individual support, our partner's group and outside grant money."
The museum's staff has relied on Karpiscak for attaining financial resources for many years. When they have concerns or doubts and ask questions like, "How can we make this happen?" they look to her to assist with ideas that some might have not thought possible.
Grant money is responsible for many of the successful exhibitions at the Museum of Art. Over the years, some shows have stood out more than others as positive recognition for the museum's reputation.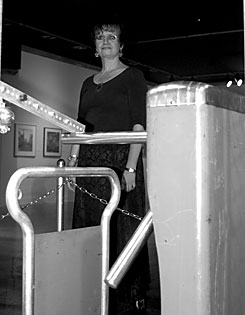 ALYSON GROVE/Arizona Daily Wildcat
The art museum has seen many changes since Lee Karpiscak began working there 26 years ago. In addition to its permanent collection, the UA Museum of Art also brings in many travelling exhibitions. Karpascik said the museum typically has between 15 and 20 current exhibitions per year.
Karpiscak's favorite exhibit remains the Rodin exhibition that took place four years ago. A private collection that was touring around the country specifically for universities featured the work of this famous French sculptor of the late 19th and early 20th century.
"We had never had crowds like we did for that exhibition. On a Sunday, hundreds of people were lined up outside the museum," Karpiscak said. "We had fifty sculptures by Rodin present."
Other extraordinary shows have included traditional Mexican art and crafts. The current chief curator set up the exhibit three years ago and it was an important chapter for the museum. Atypical mediums like tinwork and boots comprised the exhibit.
"I liked the south African art show ╬Liberated Voices,' that just came down. I thought it was a really interesting political perspective," O'Car said. "Curators put a lot of thought not just the piece of art but what stands behind it."
"We tend to do cutting edge shows that no one else will do," Karpiscak said.
Within all this change is something constant and secure. The mission behind the Museum of Art is like a pulse, reminding employees that there is meaning to the demanding work. Echoing the university's statement, it yields research, service and teaching. The mission is triumphed every time a student visits, not only those dedicated to studying art.
"Classes from all disciplines come to use collections in some way. We had a studio class in this morning to look at the faculty show," Karpiscak said. "We have assignments (that) students come in to do. It is very exciting to see humanities or philosophy classes come in, and even last Christmas we had a musical a cappella group perform. There is nothing more satisfying than to see our museum used by students and faculty across the board."
Karpiscak is retiring on Nov. 1. She will be ending a chapter of her life that lasted for over two decades. However, the museum's legacy will ensue for an indefinite amount of time. When she looks at problems that may persist in the future of the Museum of Art, she names the actual home of the museum.
The Museum of Art has outgrown itself. So much evolution has already taken place that the only limitation now is size. In order to further contribute to the university, the museum must make another change to move on.
"We need a new building and have been working on it for years. Our staff is cramped into non-existent offices and our collections are limited. We have this wonderful endowment to buy new pieces, but cannot because of the lack of space," she said. "It is a real hindrance because we think of the possibilities for programs and lectures we could do in a larger facility that has classrooms."