Holy Toledo, there's a history here
Mackovic hoping to avoid another rout at hands of Toledo's Bruins on Saturday
UCLA head coach Bob Toledo was a little coy during a Monday press conference when the subject of his last game against Arizona's John Mackovic came up.
After all, it's not every day you beat someone by 63 points.
The last time the two coaches met, Toledo's Bruins decimated Mackovic's Texas Longhorns 66-3 in a game now known as "Rout 66" by Texas fans. It signaled the beginning of the end for Mackovic at Texas, as his team stumbled to a 4-7 record and he was fired after the season. [Read article]




Kicking his way up
Forgive junior kicker Bobby Gill if he has no idea what you are talking about when you ask him a question about quitting.
That word's not in his vocabulary.
During his freshman year in the fall of 1999, Gill tried out as a walk-on kicker for the Wildcats, but was cut and told that he could try out again next season.
The Phoenix native was a little disappointed and debated if all the time and effort he put into playing college football was worth it. Plus, he didn't even know if he'd make the team, let alone see the field. [Read article]




Basketball Notes: Iguodala improving
If there was one knock on the ability of freshman Andre Iguodala, it was that he was not a complete shooter.
However, after his 9-of-12 shooting performance from the field Wednesday night in the Red-Blue Game, he might have answered some critics.
"He shot the ball really well, and there are some things he's going to be doing really well,'' head coach Lute Olson said. "He's got the size and ranginess to create opportunities. We want to make people play him to score, and then the passing lanes are going to be open.'' [Read article]



God, make the greens go away
CHARLESTON, S.C.÷ ROSENBAUM: God, are you there? God? God?
GOD: (stumbling) Yes, My son! I wasn't expecting you. What brings you back to these hallowed pages?
ROSENBAUM: God, it's Homecoming Weekend. I won't be there, but all I really care about is that Notre Dame lost last weekend. What's your take on the green jerseys?
GOD: To borrow a phrase from my man Bill Walton, absolutely atrocious. The Arizona red basketball gear didn't bring any luck, either, but at least it was fresh. [Read article]




Soccer to play final 2 matches
The Arizona soccer team plans on leaving its heart in San Francisco this weekend ÷ actually, all over the Bay Area.
The Wildcats (6-10-1, 1-5-0 Pacific 10 Conference) will play their final matches of the 2002 season when they visit California today and Stanford on Sunday.
Seniors Naomi Chu and Tymarie Novak hang up the navy blue and cardinal jerseys for the last time after playing six seasons in Tucson between the two of them. [Read article]



Barnes leads men's golf into fall season wrap-up
The Arizona men's golf team begins its final contest of the fall today in the GCAA Hooters Collegiate Match Play Championship in Myrtle Beach, S.C.
With the quality of play Arizona has shown of late, the team is expecting a top finish.
Arizona will open with a first-round match against No. 21 Pepperdine today in the team's fall season finale.
Junior Chris Nallen has finished in the top 10 individually in three out of four tournaments played this season. [Read article]



Wildcat Alumni Staff Picks

UCLA at Arizona
No. 15 Oregon at No. 5 Washington State
No. 1 Miami at Tennessee
No. 22 Iowa State at No. 12 Kansas State
[Read article]


Icecats fall short in first game of East Coast trip
In pursuit of the team's first national title since 1985, the Icecats are sure of one thing during their quest this season ö to be the best, you have to beat the best.
The No. 8 Icecats (3-2) hoped to make truth of that claim this weekend, taking on two-time American Collegiate Hockey Association defending national champion Penn State and No. 4 Delaware, all part of the team's first road trip of the season. [Read article]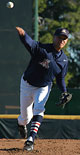 Baseball Notes: New faces in new places
The Wildcat baseball team returned from the offseason with less than half of last year's squad intact.
On the 40-man fall ball roster, 27 are newcomers.
Of those who left early, the biggest loss was left fielder Marc Kaiser, who transferred to Lewis-Clarke State College after hitting .291 for UA last season. He was also the third starter in the rotation with a 5.77 ERA.
Four would-be-sophomores also left the team as outfielder Chris Marini transferred to an Arizona junior college. First baseman Will Thompson transferred to Santa Clara. Pitcher Ryan Wilmer transferred to San Mateo community college and pitcher Will Miller left the team, according to the Arizona sports information department. [Read article]



Men's volleyball begins preseason
The Arizona men's club volleyball team will begin its title defense this weekend in a competitive preseason tournament in California.
The Wildcats are looking to pick up where they left off last season as they travel to the UC-San Diego to wage war against four teams öö Long Beach State, San Diego State University, UC-Irvine and Cal.
For Arizona, these four squads may prove to be its toughest competitio n of the year. UC-Irvine and Long Beach State are tough Division 1 opponents, while San Diego State and UC-Berkeley are traditionally strong club teams. [Read article]



Late breaking score:
The 16th ranked women's volleyball team lost to the fourth ranked Stanford Cardinal 3-0 lastnight.


showads('mediumbutton'); ?>