Holy Toledo, there's a history here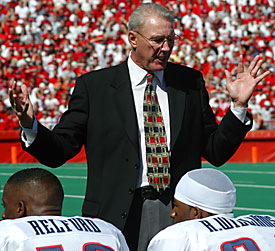 FILE PHOTO

Head coach John Mackovic will try to inspire his team to break its five-game losing streak on Saturday against UCLA.

By Connor Doyle
Arizona Daily Wildcat
Friday November 8, 2002


Mackovic hoping to avoid another rout at hands of Toledo's Bruins on Saturday

UCLA head coach Bob Toledo was a little coy during a Monday press conference when the subject of his last game against Arizona's John Mackovic came up.

After all, it's not every day you beat someone by 63 points.
---
If you go ·


What: UCLA at Arizona
Kickoff: 7:07 p.m.
Where: Arizona Stadium
TV: No live TV; tape delay Sunday at 1 p.m. on FSNA
Radio: Live on KNST
Tickets: Student tickets can be purchased for $7; Individual tickets start at $10
Players to watch:
Arizona ÷ Quarterback Nic Costa, cornerback Darrell Brooks
UCLA ÷ Running back Tyler Ebell, safety Ricky Manning
---
The last time the two coaches met, Toledo's Bruins decimated Mackovic's Texas Longhorns 66-3 in a game now known as "Rout 66" by Texas fans. It signaled the beginning of the end for Mackovic at Texas, as his team stumbled to a 4-7 record and he was fired after the season.
When asked about the game earlier this week, as the two coaches will meet again on the field tomorrow night at 7:07. in Arizona Stadium, Toledo at first pretended he didn't remember the game in question. But only seconds later, the coach seemed to remember the game quite vividly.
"It was just one of those games that happened," Toledo said. "They turned the ball over and made some mistakes and we made some big plays. Late in the game, they went for it on fourth down and didn't make it, and we scored a touchdown. And then, their quarterback threw another pass and we intercepted it and ran it back for a touchdown.
"It was just one of those games where a landslide started and they just couldn't get it stopped. I wasn't trying to run the score up."
Apparently, Mackovic believes otherwise, and he didn't mince words Monday when it was his turn to talk about the matchup five years ago.
"Yes he was (running up the score)," said Mackovic, who has made it clear in the past he abhors the practice. "They passed early, they passed often. And they passed late. They were trying to make a statement."
The shoe, to a large extent, will be on the other foot this Saturday, as Mackovic's Wildcats need to make a statement in this game in what has been a lost season for the program.
Arizona (3-6, 0-5 Pacific 10 Conference) is mired in the basement of the conference, and in need of a win to maintain hope of a .500 season. But it appears the focus of the team isn't just winning games any longer, as Mackovic announced this week that No. 2 quarterback Nic Costa will play a more prominent role in the offense.
Mackovic said with the team's bowl chances being slim to none, it's important the coaching staff get a fix on Costa's ability to step in while the game is still on the line.
"The biggest thing is how he conducts himself, and if he can make some plays," Mackovic said. "We know it won't always be easy, so how does he handle the pressure?"
The plan for now is to give Costa at least two series during the game, though Mackovic said starting quarterback Jason Johnson will still be given every opportunity to win the game.
Interestingly enough, Toledo used a similar strategy this season at UCLA (6-3, 3-2 Pac-10), spelling then-starting quarterback Cory Paus with freshman quarterback Drew Olson intermittently while games were still on the line.
The move paid dividends when Paus was lost for the season last month with a broken ankle, and a battle-tested Olson was able to step in his place. While Toledo said quarterback production hasn't been spectacular, it's been good enough to keep his team in a position to win games.
The move means less playing time for Johnson, a senior who's only 88 yards away from breaking the school's all-time record for passing yards in a season. Johnson has thrown for 2,433 yards and 11 touchdowns this season.
Those 88 yards won't be a given, as Johnson will have to deal with perhaps the best secondary in the conference. Led by standout corners Ricky Manning, Jr., and Matt Ware, the Bruins have held opposing passers to a 48 percent completion rate and 211 yards per game.
"Their defense is very athletic. They get pressure up front, but they can still cover receivers downfield because their corners are so good," Johnson said.
Mackovic said UCLA's secondary isn't the only part of the team that can create matchup problems.
"They have the best athletes in the Pac-10," Mackovic said.
Considering the odds, Arizona fans should hope the action on the field is as interesting as the post-game handshake should be.