Basketball Notes: Iguodala improving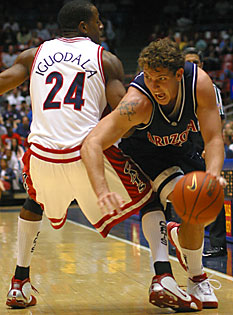 DAVID HARDEN/Arizona Daily Wildcat

Freshman forward Andre Iguodala earned praise from head coach Lute Olson for his toughness and quickness while guarding senior Luke Walton.

By Maxx Wolfson
Arizona Daily Wildcat
Friday November 8, 2002


If there was one knock on the ability of freshman Andre Iguodala, it was that he was not a complete shooter.

However, after his 9-of-12 shooting performance from the field Wednesday night in the Red-Blue Game, he might have answered some critics.

"He shot the ball really well, and there are some things he's going to be doing really well,'' head coach Lute Olson said. "He's got the size and ranginess to create opportunities. We want to make people play him to score, and then the passing lanes are going to be open.''

Even more impressive was how the Springfield, Ill., native shot from the outside, where he was 5-of-7.

"You know, some nights the ball goes in, and some nights it doesn't," said Iguodala, who finished with 23 points.

He also made strides on the defensive end of the court, where he was matched up against senior Luke Walton most of the game.

Iguodala was able to use his quickness to keep up with the All-America candidate.

"He has about a million moves," said Iguodala about Walton. "You try not to overplay him."
---
One of the few players on the Blue team that stood out Wednesday night was sophomore Isaiah Fox.
Fox had 16 points, 11 boards and two blocked shots, and played with more intensity than he showed in his freshman campaign. But what was even more surprising was his play against fellow sophomore Channing Frye.
"Isaiah made it tough on Channing, grabbing eight offensive rebounds to Channing's two," Olson said. "Isaiah went after everything on the glass."
Fox did most of his damage in the first half, shooting 7-for-8 and bringing down five boards.
---
If Wednesday night's Red-Blue Game didn't give you a good enough impression of this season's No. 1 ranked team, Olson will hold another open scrimmage tomorrow at McKale Center from 12-1:30 p.m.
Parking will be limited because of the UCLA-Arizona football game later tomorrow night.ð ð ð
Former Arizona guard Steve Kerr will be one of 10 players to be inducted into the Pacific 10 Conference basketball hall of honor.
Kerr's 53.7 percent three-point shooting average in 1988 remains a Pac-10 record.
Kerr averaged 10.4 points per game and led the Wildcats to the 1988 Final Four. He played on four NBA title teams with Chicago and San Antonio.
Kerr now plays for the Spurs and averages five points a game.
The other honorees to be inducted during the men's Pac-10 tournament in March are Tex Winter (USC), Kareem Abdul-Jabbar (UCLA), Todd Lichti (Stanford); Kevin Johnson (Cal) and former coaches Ned Wulk (ASU), Howard Hobson (Oregon), Amory "Slats" Gill (Oregon State), Marv Harshman (Washington) and Jack Friel (Washington State).