God, make the greens go away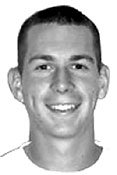 Bryan Rosenbaum
former Wildcat sports editor

By Bryan Rosenbaum
Arizona Daily Wildcat
Friday November 8, 2002


CHARLESTON, S.C.÷ ROSENBAUM: God, are you there? God? God?

GOD: (stumbling) Yes, My son! I wasn't expecting you. What brings you back to these hallowed pages?

ROSENBAUM: God, it's Homecoming Weekend. I won't be there, but all I really care about is that Notre Dame lost last weekend. What's your take on the green jerseys?

GOD: To borrow a phrase from my man Bill Walton, absolutely atrocious. The Arizona red basketball gear didn't bring any luck, either, but at least it was fresh.

ROSENBAUM: Why is Boston College always good for an upset?

GOD: Simply put, Bryan, I believe those Jesuits are the ones that truly channel My powers. Notre Dame, for all its holiness, doesn't quite do it for me. The biggest fans of the Irish are John, Peter and the rest of the apostles ÷ you know, they're holy and all, but they aren't quite Me. For the record, Notre Dame is not God's school.

ROSENBAUM: Interesting. But Boston College usually is mediocre the rest of the year. Surely they cannot be referred to as "God's School."

GOD: Well, most Catholics only go to church once a year, at Christmas ÷ like yourself. This is my way of reaffirming your faith at least twice a year now, Bryan. Good can happen, even in South Bend.

ROSENBAUM: Speaking of good, how will Arizona do in basketball this season?

GOD: Well, in the last column between us in Fall 2000, I had UA going to the Final Four and, of course, I was right. This year, I have your Wildcats knocking off Oklahoma in the national championship game. Meanwhile, My Holy Cross will pull off the upset this time and beat Kansas in the first round. It wasn't ready last year, but the team spent a good deal of time in the weight room last summer.

ROSENBAUM: Don't you mean spent a lot of time in church?

GOD: No, I mean the weight room. Praying doesn't get you anywhere in sports, Bryan, so please stop asking me for Michigan to somehow get Drew Henson back and pray for world peace instead.

ROSENBAUM: Pfff. World peace, how boring. God, do you find it ironic that Jason Kidd gets a harsher penalty for elbowing Jamaal Tinsley than he does for hitting his own wife?

GOD: Not as ironic as the Utah Jazz playing against New Orleans in New Orleans, but pretty close. I'm not interested in the judicial decisions, My son. I just want you to know he will have a fiery time in Hell when he's done here on Earth.

ROSENBAUM: What about forgiveness, God? Isn't a fiery life in Hell a little harsh?

GOD: I'm a Knicks fan, Bryan. I can't stand Dirty Jersey. But understand, I had to make someplace like that.

ROSENBAUM: I suppose. But the Knicks, God? They suck! Their general manager ruined that team!

GOD: It isn't easy, My son. For instance, let's look at your fantasy football roster÷Emmitt Smith, Antonio Bryant, Jerome Pathon, David Boston and Qadry Ismail in your starting lineup?

ROSENBAUM: In retrospect, God, was it a bad decision to trade Terrell Owens and Eddie George for Jerome Pathon and Garrison Hearst after week 5 of the fantasy football season?

GOD: Yes, you moron. You are quite possibly the worst fantasy GM of all time.

ROSENBAUM: God, a little word association, shall we? The Pittsburgh Panthers.

GOD: Big East champions in football and basketball. Yes, God is making bold statements.

ROSENBAUM: John Mackovic.

GOD: (Laughs) People here actually want Dick Tomey back, now. Make up your minds!

ROSENBAUM: Michigan State football.

GOD: (Uncontrollable laughter)

ROSENBAUM: Jay-Z or Nas?

GOD: Neither. DC Talk.

ROSENBAUM: Ohhh, that's a bad one. I should end it there, but one more thing÷Arizona or UCLA this weekend?

GOD: Bobby Wade racks up over 200 yards of total offense; Arizona wins. Go Cats!

Bryan Rosenbaum is a former Wildcat sports editor.