Soccer to play final 2 matches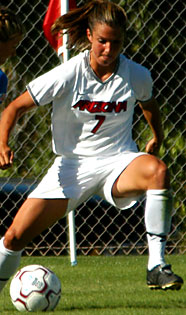 KEVIN KLAUS/Arizona Daily Wildcat

Senior Tymarie Novak will take the field for the final time this weekend against California and Stanford. The Wildcats hope to play the role of spoilers in their last games.

By Ross Hammonds
Arizona Daily Wildcat
Friday November 8, 2002


The Arizona soccer team plans on leaving its heart in San Francisco this weekend ÷ actually, all over the Bay Area.

The Wildcats (6-10-1, 1-5-0 Pacific 10 Conference) will play their final matches of the 2002 season when they visit California today and Stanford on Sunday.

Seniors Naomi Chu and Tymarie Novak hang up the navy blue and cardinal jerseys for the last time after playing six seasons in Tucson between the two of them.

"It's exciting and it's a close," Chu said. "It's time to move on, but I can't be sad. I've been very blessed in my four years here."

Chu's future plans involve her major ÷ education ÷ and will likely place her into a teaching position somewhere down the line, though nothing is set in stone.

"It's going to be sad not to see all these girls," Novak said of her teammates. "I am looking forward to this weekend. We want to be the spoilers."

Arizona is coming off a weekend that saw an upset of No. 20 Washington, 2-1 in double overtime ÷ the first time UA beat a ranked opponent and its first victory over UW. Scoring the game-winner was redshirt freshman Kelly Nelson, who broke the UA single-season record with 13 goals in the process. Nelson is the Pac-10 leader in scoring, goals and goals per game.

"We want to go up and have a good weekend," Nelson said. "And hopefully give the seniors a nice goodbye game."

Freshman Mallory Miller is also in the Pac-10 spotlight, tied for eighth in shots with 45 and tied for tenth in shots per game with 2.65.

The Wildcats will have their first chance to play spoiler today at 11:30 a.m. when they take the field against the Golden Bears (9-7-1, 2-5-0 Pac-10, who are trying not to fall for a sixth time in their last eight matches.

"We have nothing to lose," Novak said. "We definitely want to be part of some upsets."

If the Wildcats prevail, then Cal does not get a bid in the NCAA Tournament. It would be the first time in six years the Bears' season ended early.

Last year in Tucson, UA took the Bears to overtime before falling 2-1.

"Anything can happen," Chu said. "We surprised ourselves last weekend. We want to win."

The Blue and Gold are led by freshman Tracy Hamm (no relation to Mia), who has 16 points, which ties her for fourth in the Pac-10 in both goals and goals per game.

Six days ago, Cal played host to Stanford and the Cardinal held out 2-1 and remained No. 1 in the nation.

The Wildcats are winless against both the Cardinal and the Bears all-time.

The Cardinal is a staggering 17-1-0 on the season and a perfect 7-0-0 in Pac-10 play. Their only loss came on Oct. 4 when No. 2 North Carolina held on to a 1-0 victory in Stanford.

Stanford has locked down the No. 1 spot in both the NCSAA poll and the Soccer Buzz rankings for the last five weeks, the longest streak in school history.

This season, the Cardinal have rippled the twine an incredible 41-4 compared to its opponents offensive production.

"It's hard to win when you allow five goals," Novak said, referencing the 5-0 loss to Oregon State on Oct. 27. "We've been working on every detail of organization."

Stanford has placed three players on the Academic All-America team.

Last year, the Cardinal schooled Arizona 5-0 in Tucson and have out-scored the Wildcats 32-7 in seven meetings.

Arizona ends its season against Stanford at 1 p.m. on Sunday.