Wildcat Alumni Staff Picks

Arizona Daily Wildcat
Friday November 8, 2002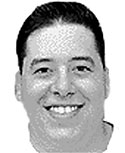 Dan rosen
fmr.sports editor
UCLA at Arizona
There is only one man · err, beast that can save the season. He's lean, muscular and wears a growl seemingly etched to his face. Put him at quarterback, and he'll run around defenses like Michael Vick. Put him at receiver, and he leaps over cornerbacks like Jerry Rice. He is Wilbur the Wildcat. He hasn't played yet, and the Cats haven't won a Pac-10 game. Coincidence? Wilma, can Wilbur come out and play?
UCLA 35, Arizona 17
No. 15 Oregon at No. 5 Washington State
Who wants to watch Oregon anyway? Seriously, is the Pac-10 not a passing league? What's with this running stuff? What is this, the Big 10? Boring. Onterrio Smith is one of two 1,000-yard rushers in the league this season. Give me five wideouts, five blockers and a QB. Heck, give me six wideouts, even though it's illegal. Give me Jason Gesser. And for god's sakes, give Arizona Mike Price.
Wazzu 47, Oregon 35
No. 1 Miami at Tennessee
OK, so Rutgers, the team every good college football team should be judged against, lost by 25 to Miami last week, but the ĪCanes needed 28 in the fourth quarter after trailing the whole game. The Scarlet Knights lost by 21 in Neyland Stadium on Sept. 28, but RU led at halftime. Whew, this is a tossup, huh? Just for laughs, I'll take Miami.
Miami 31, Tennessee 14
No. 22 Iowa State at No. 12 Kansas State
"His running with his legs, nothing surprises me now," Iowa State running back Mike Wagner said of quarterback Seneca Wallace. What the heck does that mean? Doesn't everybody run with their legs? Why is that a surprise? How about, "His 493 total yards of offense last week, that's not a surprise." Wallace is the real deal, something the patsy-playing Wildcats don't see much of. Go ĪClones.
Iowa State 35, Kansas State 27
---
Ryan Finley
fmr. sports editor/editor
UCLA at Arizona
Boo!!!! It's me, Ryan Finley, back from the grave (or at least the Arizona Daily Star sports desk) with one purpose ÷ to pick football games! Our first spooky game is Walton Bowl IV. In what will be a battle for the ages, look for the Big Redhead's boys to run up the score on the Mildcats, with Jamaal Wilkes and Sidney Wickes running it up.
UCLA 106, Arizona 95 (OT)
No. 15 Oregon at No. 5 Washington State
Where's my boy Ryan Leaf? Let's hope he's in the stands this weekend, when WSU will expose the Ducks, who have been wobblier than Anna Nicole's, well, everything in the past weeks. Look for Hawaiian Jason Gesser to eat up the Ducks' defense like Ms. Smith devours, well, everything. See a trend developing?
Wazzu 28, Oregon 17
No. 1 Miami at Tennessee
The orange-and-green U's got a scare last week against Rutgers, but watch out for the Canes against the Rocky Toppers Saturday. Using my Six Degrees of San Diego theory, Kellen Winslow Jr., the son of former Charger Kellen Winslow, should carve up the Tennessee "D" for a big win. Does Archie Manning have any more kids?
Miami 24, Tennessee 14
No. 22 Iowa State at No. 12 Kansas State
Let's get this out of the way now: Seneca Wallace is as much a Heisman candidate as I am. He had his shot, but his scared-little-girl performance against Oklahoma pretty much eliminated him from contention. K-State beat USC, who is (sorry, Wazzu) the best team in the Pac-10; ISU has beaten, well, Missouri. 'Nuff said.
Kansas State 24, Iowa State 17
---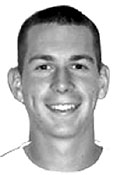 Bryan Rosenbaum
fmr. sports writer and editor
UCLA at Arizona
Originally, I planned to talk about the football game, but I came across an article in yesterday's Wildcat about how the student section will be named ĪZona Zoo.' A) Nobody in Arizona actually refers to Arizona as ĪZona, that's for ESPN; B) How can you name a non-existent student section? and C) Can I become an alumni yell leader? It'd be like my own personal Texas A&M.
UCLA 67, Arizona 31
No. 15 Oregon at No. 5 Washington State
Who cares if they produced Ryan Leaf and Drew Bledsoe ÷ Wazzu is the Pac-10's last chance at the Fiesta Bowl. Oregon suddenly drops consecutive home games and panic sets in ÷ they replaced Donald Duck with another copied mascot. It looks kind of like Bicentennial Man, no? Not that I saw that ·
Wazzu 56, Oregon 51 (3 OT)
No. 1 Miami at Tennessee
Miami struggled against West Virginia and Rutgers ÷ so what? You may think Miami is going downhill and that they will lose to the Vols, but not so fast, my friend! Vols fans are getting testy, and for once it's great to see Tennessee and Florida struggling. You won't hear much "Rocky Top" this weekend.
Miami 31, Tennessee 16
No. 22 Iowa State at No. 12 Kansas State
It's hard not to like Seneca Wallace, but it is also not hard to dislike ISU and K-State. I mean, who goes to these schools, anyway? I can't mention K-State without yearning for the days of Michael Bishop or making fun of their schedule. Who knew you could lose two or three Big XII games and still possibly win the division?
Iowa State 37, Kansas State 34
---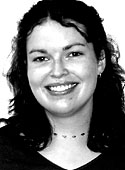 Maggie Burnett
fmr. editor
UCLA at Arizona
Ah, Homecoming. The smell of barbecues, the sound of fans cheering, Maggie's long-awaited return to staff pick-dom · but I digress. This game is gonna be a joke, plain and simple. UCLA will whup up on the Wildcats with the fury of 1,000 fires. Ain't no lie.
UCLA 63, Arizona 3
No. 15 Oregon at No. 5 Washington State
OREGON. Bah. I hate that state. Just got a $300 speeding ticket there a few weeks ago. I don't care if their team is great or not, the Cougs will take them down ö down to Chinatown. Officer Friendly was a jerk to me in Oregon, therefore I shall be a jerk to the Ducks. What kind of a team name is that, anyway?
Wazzu 35, Oregon 28
No. 1 Miami at Tennessee
Miami is one sexy city. And football players are sexy guys. Put two and two together and you've got yourself one sexy win for the Hurricanes. In reality, I know jack about Miami. But a Hurricane is a damn good drink, and Lord knows I love my drinks like I love my football players ö strong and on the bar, ready to go.
Miami 45, Tennessee 17
No. 22 Iowa State at No. 12 Kansas State
Ugh. I can't believe people actually live in these states, let alone allow themselves to be recruited for teams there. But, I'll pick KSU because it always seems these corn-fed boys come out on top. I could insert a truly disgusting and lewd joke here, but I'm a nice Catholic girl, so I'll refrain.
Kansas State 49, Iowa State 7