Baseball Notes: New faces in new places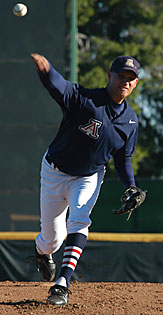 KEVIN KLAUS/Arizona Daily Wildcat

Junior pitcher Sean Rierson is one of the few returning Wildcat pitchers this year. He will be the team's ace.

By David Stevenson
Arizona Daily Wildcat
Friday November 8, 2002


The Wildcat baseball team returned from the offseason with less than half of last year's squad intact.

On the 40-man fall ball roster, 27 are newcomers.

Of those who left early, the biggest loss was left fielder Marc Kaiser, who transferred to Lewis-Clarke State College after hitting .291 for UA last season. He was also the third starter in the rotation with a 5.77 ERA.

Four would-be-sophomores also left the team as outfielder Chris Marini transferred to an Arizona junior college. First baseman Will Thompson transferred to Santa Clara. Pitcher Ryan Wilmer transferred to San Mateo community college and pitcher Will Miller left the team, according to the Arizona sports information department.

Closer Tony Sulser, who would have been a junior this year, enrolled at UA but is not playing baseball. He is expected to transfer.

Also, catcher Ken Riley signed as a free agent with the Colorado Rockies with one year of eligibility left and second baseman Greg Powers transferred to Santa Barbara.
---
New faces mean new positions for juniors Mosies Duran and sophomore John Hardy.
Duran started 49 games last season, almost all of them at second base. But this year he's a candidate to start at third base, Hardy's old position.
"The coaches think I'm better fit at third," Duran said. "I practiced a little at it last year but I haven't played there since I was in Little League."
Meanwhile, Hardy has shifted from third over to short stop after Brad Hassey graduated and was drafted by the Toronto Blue Jays.
Hardy led the team with a .328 average but never saw time at short last season. He played two games at second against Arizona State in a brief experiment but returned to third for the remainder of the season.
The change won't be hard for him to adjust to, though, since he played at short all throughout his high school career.
"I had to move to third when I came (to UA) to get me some chances to play, but it wasn't long enough and I didn't adapt well," Hardy said.
---
Junior center fielder and closer Brian Anderson underwent shoulder surgery on Tuesday and will not practice for the rest of the calendar year.
However, he is scheduled to return on the first day of official practice at the start of the spring semester.
Last year, Anderson missed nearly the first two months of season with a sprained knee. The Tucson local hit .275 on the season after he returned.
Senior starting pitcher Brian Pemble also had surgery on his arm that has troubled him for the past two years.
Pemble missed all of last season because he was a medical redshirt. He is also expected to miss the rest of the Fall season but will be ready for the beginning of practice in January.
---
Fall baseball officially ended last week after the Wildcats scrimmaged for three weeks. The players enjoyed an off week because NCAA guidelines stipulate a break after the practices.
Next week, head coach Andy Lopez and his coaching staff will cut down the roster to 33 and will hold individual skill hours for the remainder of the offseason.