Students, faculty rally for terror-free peace in Israel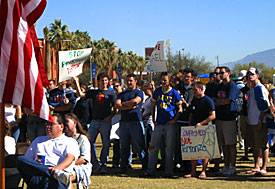 TERRI WALTZ/Arizona Daily Wildcat

A group of about 100 people take part in a rally for Middle East peace on the UA Mall yesterday. The rally, hosted by the Arizona-Israeli Alliance, was held in support of Israel's efforts to make peace in the region, and included speeches from students, faculty and others.

By Devin Simmons
Arizona Daily Wildcat
Friday November 15, 2002


Roughly a hundred students gathered on the UA Mall yesterday to hold a rally in support of Israel and peace in the Middle East.

The event included speeches from UA students, faculty, and outside speakers associated with the conflict.

The tone of the rally was supportive of Israel and the country's intention to achieve peace in the region, organizers said.

"We want to talk peace, we are ready to talk peace, but we will fight terrorism," said Neil Lazarus, a speaker who lives in Israel.

Near Eastern studies freshman Rachael Levy, a member of the Arizona-Israeli Alliance, recounted a suicide bombing on a crowded Israeli street that she witnessed last year.

"The horrors that Americans experienced on Sept. 11 is a horrible nightmare Israelis live with everyday," Levy said.

Many speakers blamed the breakdown in peace negotiations in the region on the Palestinian leadership.

"The only peace Arafat wants is a piece of Jerusalem," said Mark Percedes, a member of the Israeli press consulate in Los Angeles.

A small contingent of members of the Alliance for Peace and Justice in the Middle East also attended the rally in an attempt to present the other side of the debate, said Paul Snodgrass, a history senior and member of the club.

"We definitely agree that the events in the Middle East are a human tragedy," said Snodgrass. "But they showed a one-sided view. Israel is not the only one suffering."

The event was hosted by the Arizona-Israeli Alliance, a pro-Israel organization on campus and supported by the College Republicans, Young Democrats and the UA Hillel Foundation.